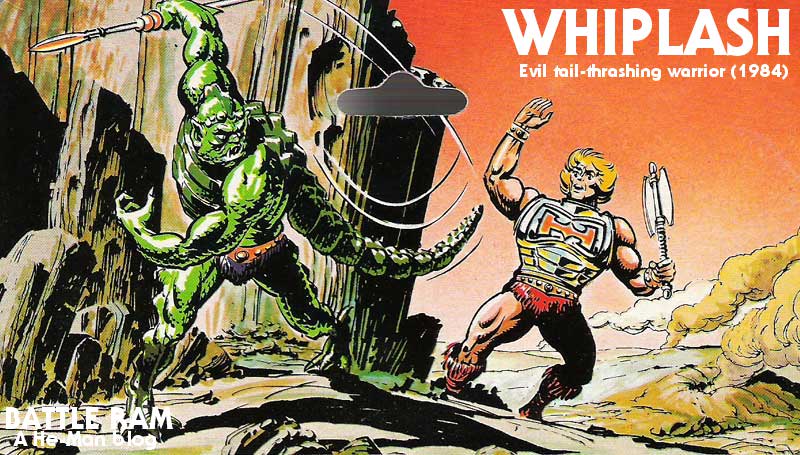 Whiplash, released in 1984, was part of a series of five animal-themed figures released in the third wave of the Masters of the Universe toyline, which also included Clawful, Buzz-Off, Webstor and Kobra Khan.
I had something of a love affair with the figure as a kid. I distinctly remember the existential agony of having to choose between him and Clawful at the store. Ultimately I went with Clawful, but it could have gone either way. I remember spending a lot of time playing with Whiplash despite that, so I think I was either able to borrow one from a friend or get my own later.
Just about everything I have to say about the development of Whiplash's design was already said several years ago by James Eatock, in his excellent "Behind the Scenes – The Evolution of Whiplash" video. I'm including James' video below, but I'll also go over the details myself.
Whiplash was designed by Colin Bailey in July of 1982. His original concept, shown below, is in many ways quite different from the final toy, but there are points of convergence as well. The character has the same widely-splayed four toed feet and troll-like facial features that the final toy had. However, this concept character, called Lizard Man, had strangely furry calves, yellow legs, prominent spinal ridges, spikey violet bracers, and two prominent horns.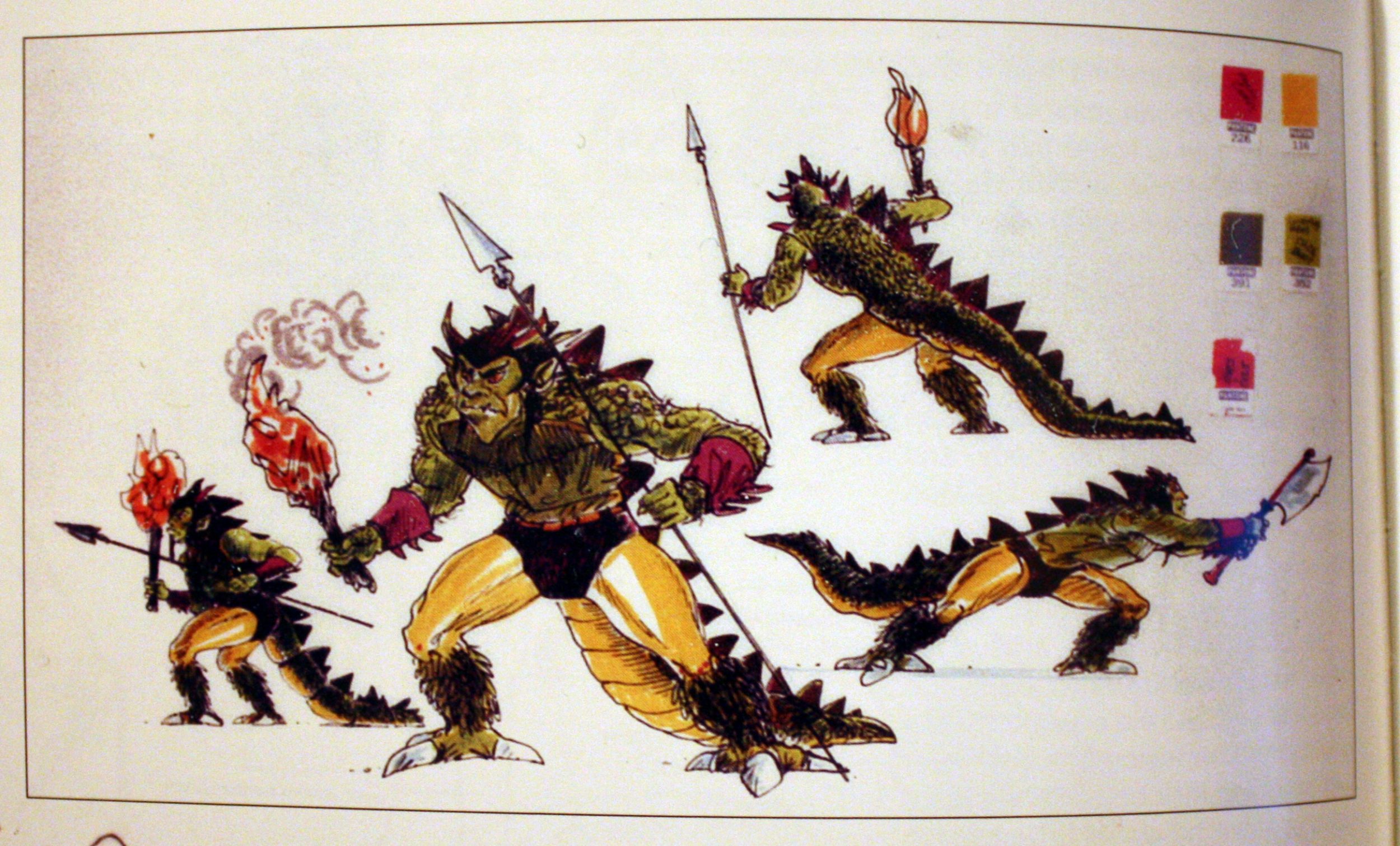 Lizard Man made it into the December 1, 1982 MOTU Bible, and was listed among He-Man's allies:
LIZARD MAN – moves quietly, quickly and has the agility of his namesake. He climbs perpendicular walls and his tough lizard skin provides protection against most of his enemies. Liz has one drawback — every year he molts and becomes vulnerable to attack and completely useless to anyone.
The Colin Bailey concept was translated into into a simplified design suitable for animation by Filmation's artists (see above video), but it was never used, and Lizard Man went back to the drawing board at Mattel. In the mean time, Filmation created a new character with the same name for their episode, "She-Demon of Phantos":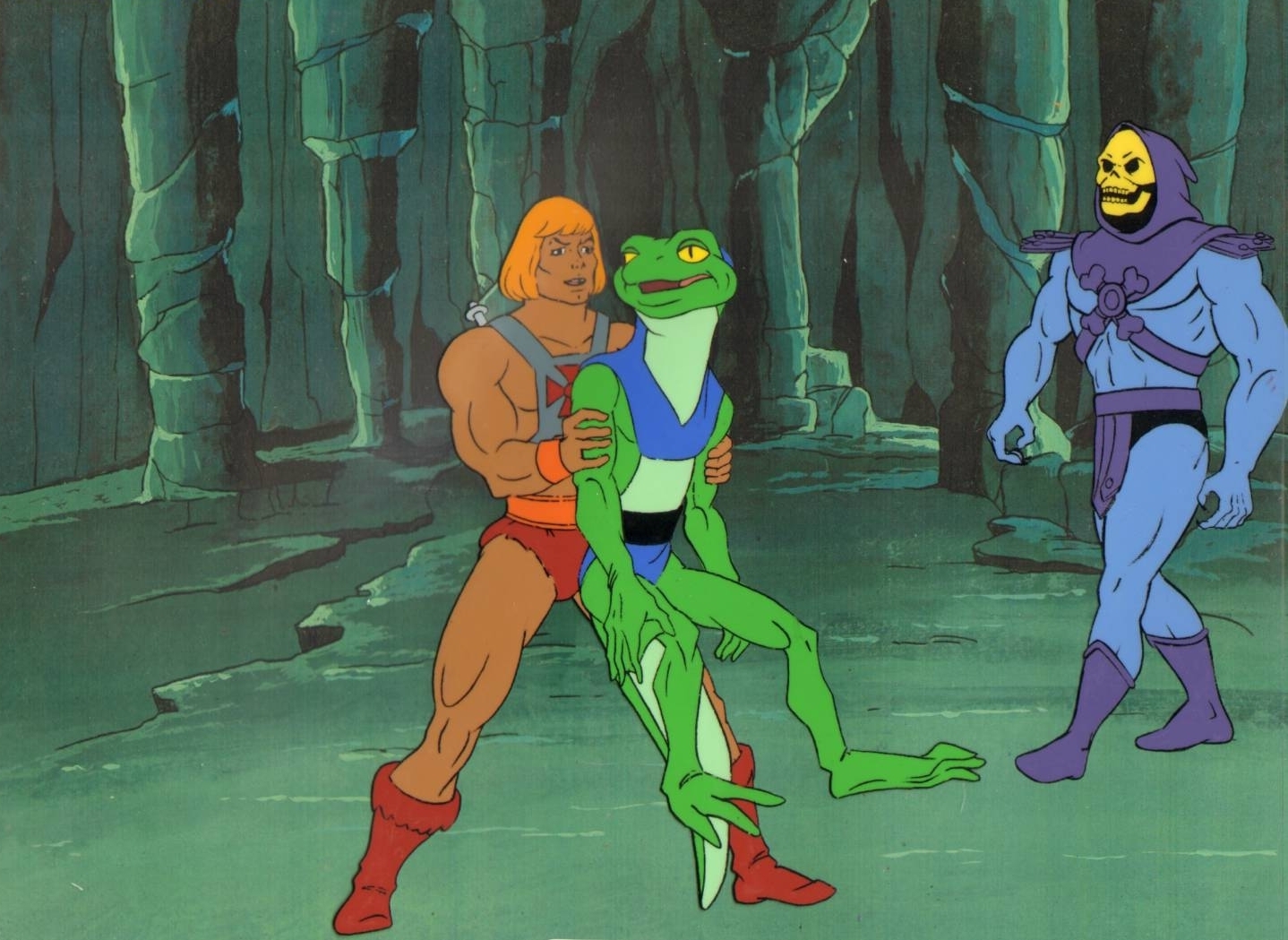 Mattel made some changes to the shape of Lizard Man's (or at this point, I should say Whiplash – Mattel filed the trademark claim for that name on August 22, 1983) head, legs and tail. You can see this step in the evolution of the character in the minicomic, The Clash of Arms. Whiplash looks much closer to his final design here, except for his color scheme (green, yellow/orange and purple, like the original concept drawing) and the shape and length of his tail: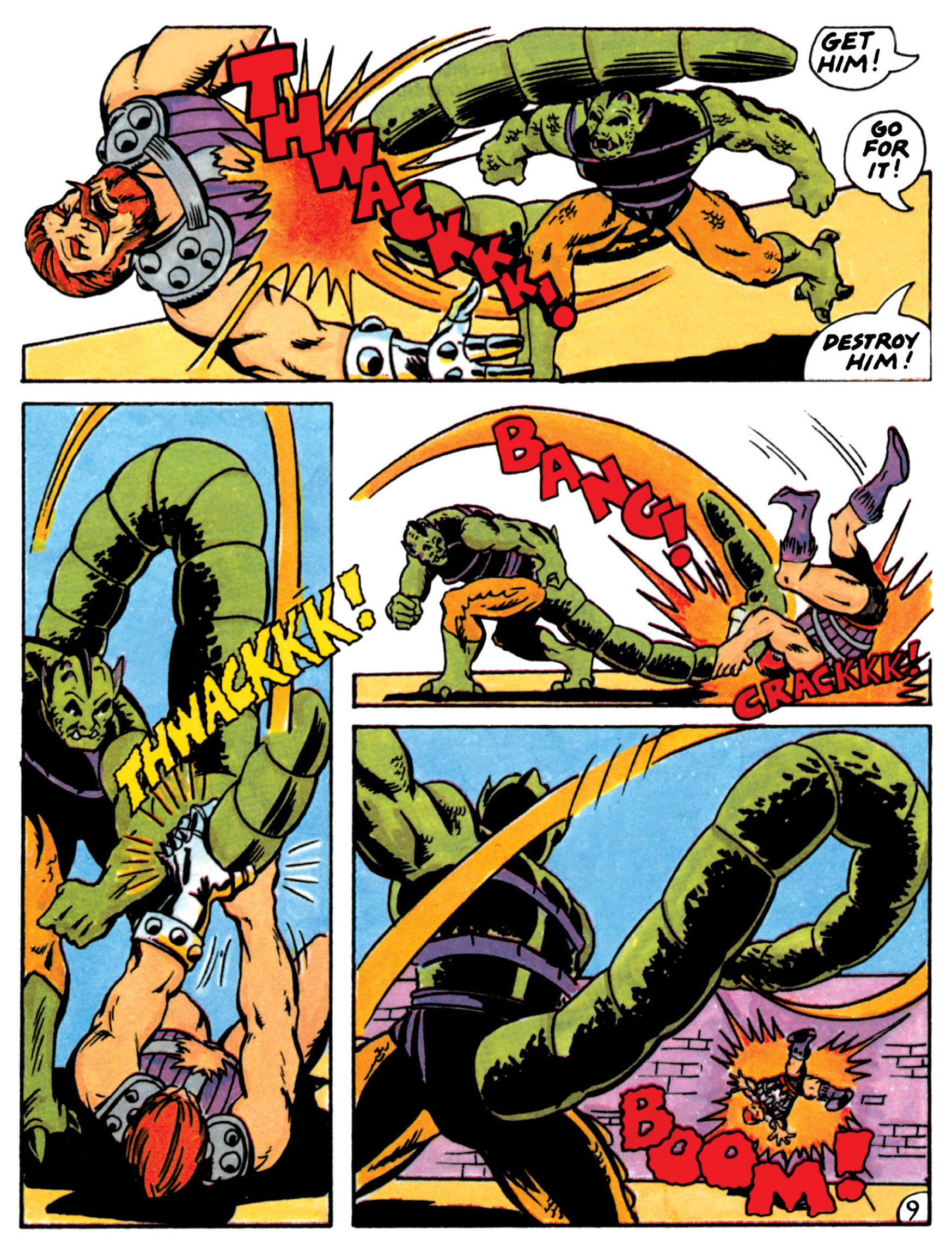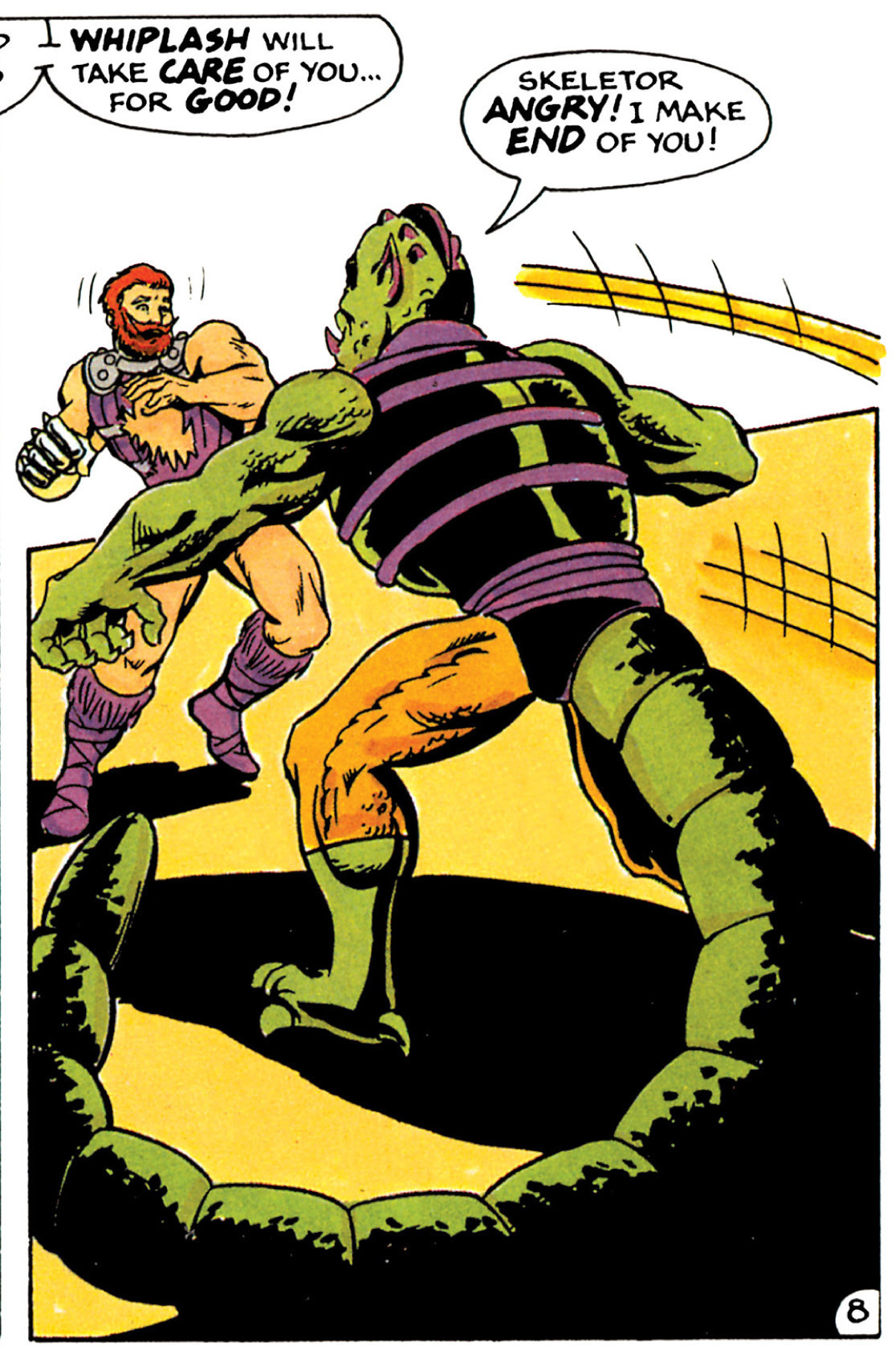 The final toy would have a much simplified two-tone green color scheme for his skin, with blue boots and loin cloth, and an orange belt. The hand-painted prototype figure, shown below in Mattel's 1984 dealer catalog, has his final alligator tail design, and sports a purple repaint of the spear that came packed with Castle Grayskull. He reuses arms from Skeletor, as well as the legs and torso from Buzz-Off.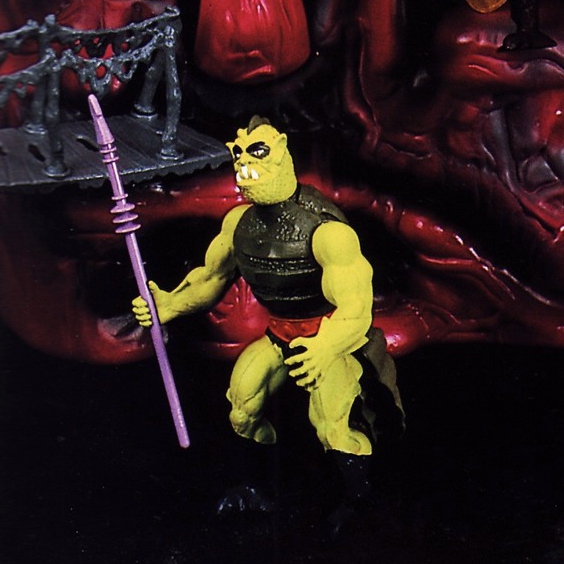 In this German catalog, you can see the prototype again, this time with some paint wear showing his Skeletor arms. He is holding Man-E-Faces' sword:
The purple spear shows up again on the cover of the Golden coloring book below:
The production toy would come with an orange spear, but otherwise the design remained unchanged compared to the prototype: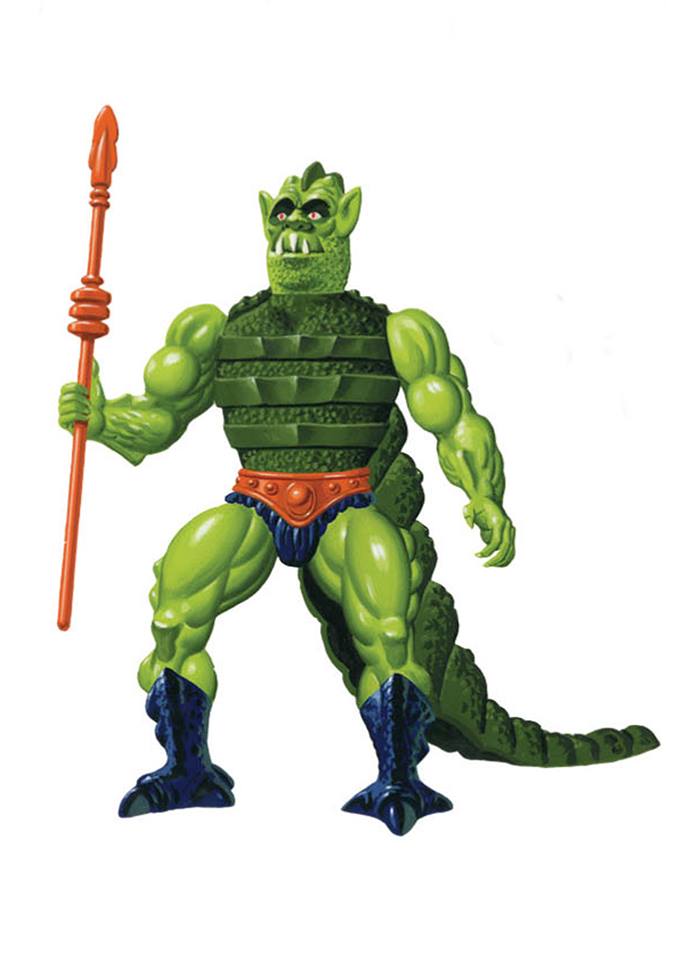 Whiplash's face is somewhat perplexing. He has two large fangs sticking up out of his lower jaw, but he has a third, downward pointing fang that seems to come from the tip of his nose. You can also see that where the concept version had very prominent spikes on the top of his head, the final toy has two short nubs on either side of the crest on his head.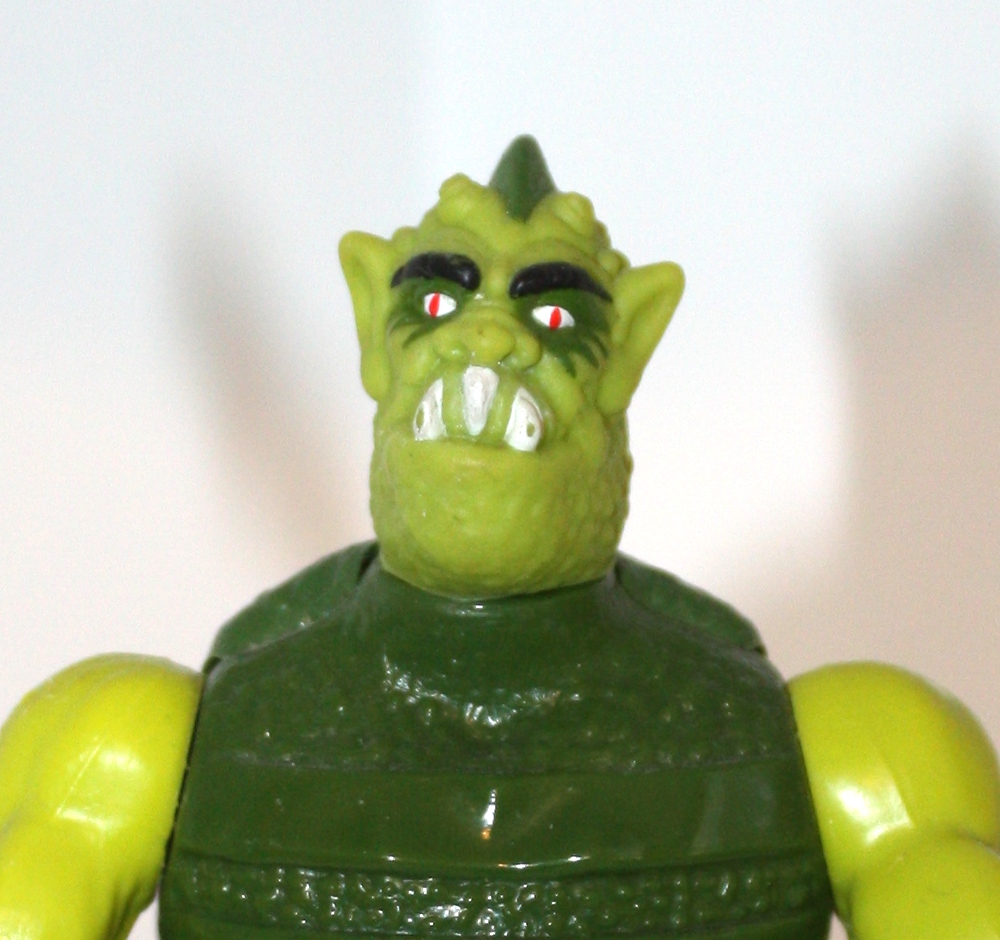 The final design is somewhat reminiscent of a couple of other lizard themed toys that Mattel released in 1980 – an inflatable lizard monster toy called Krusher, and Lizard Woman from the Flash Gordon series: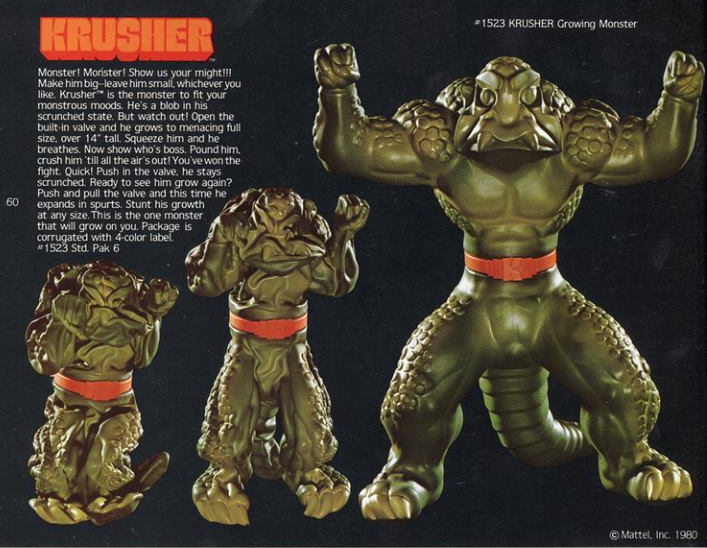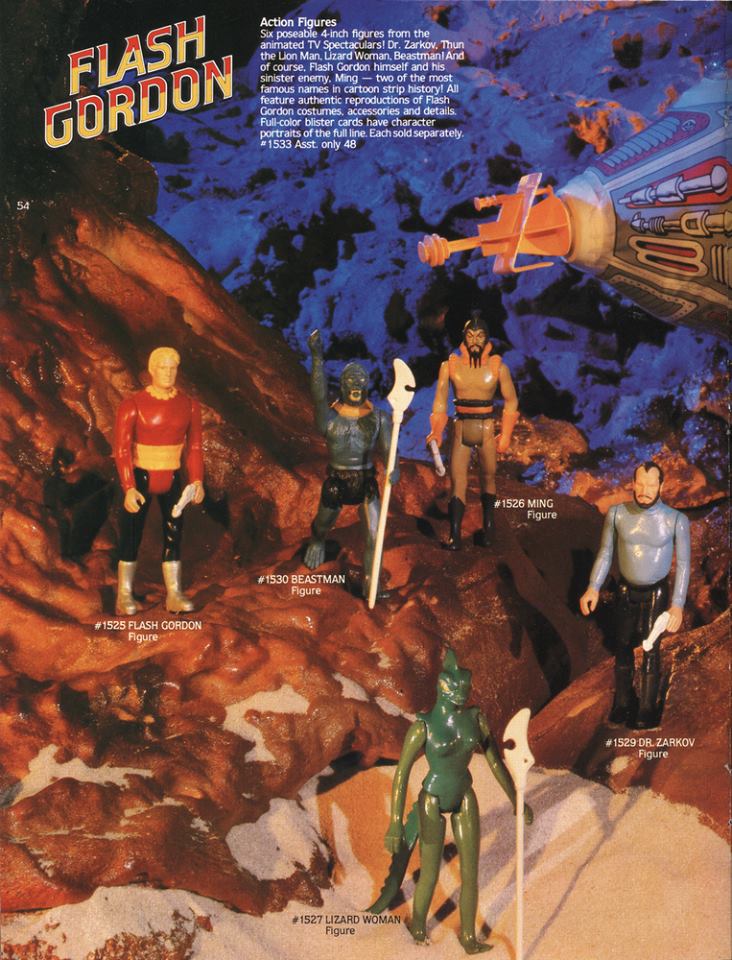 Whiplash was sold in several configurations, including, of course, the standard blister card packaging, which has some lovely artwork by Errol McCarthy on the back: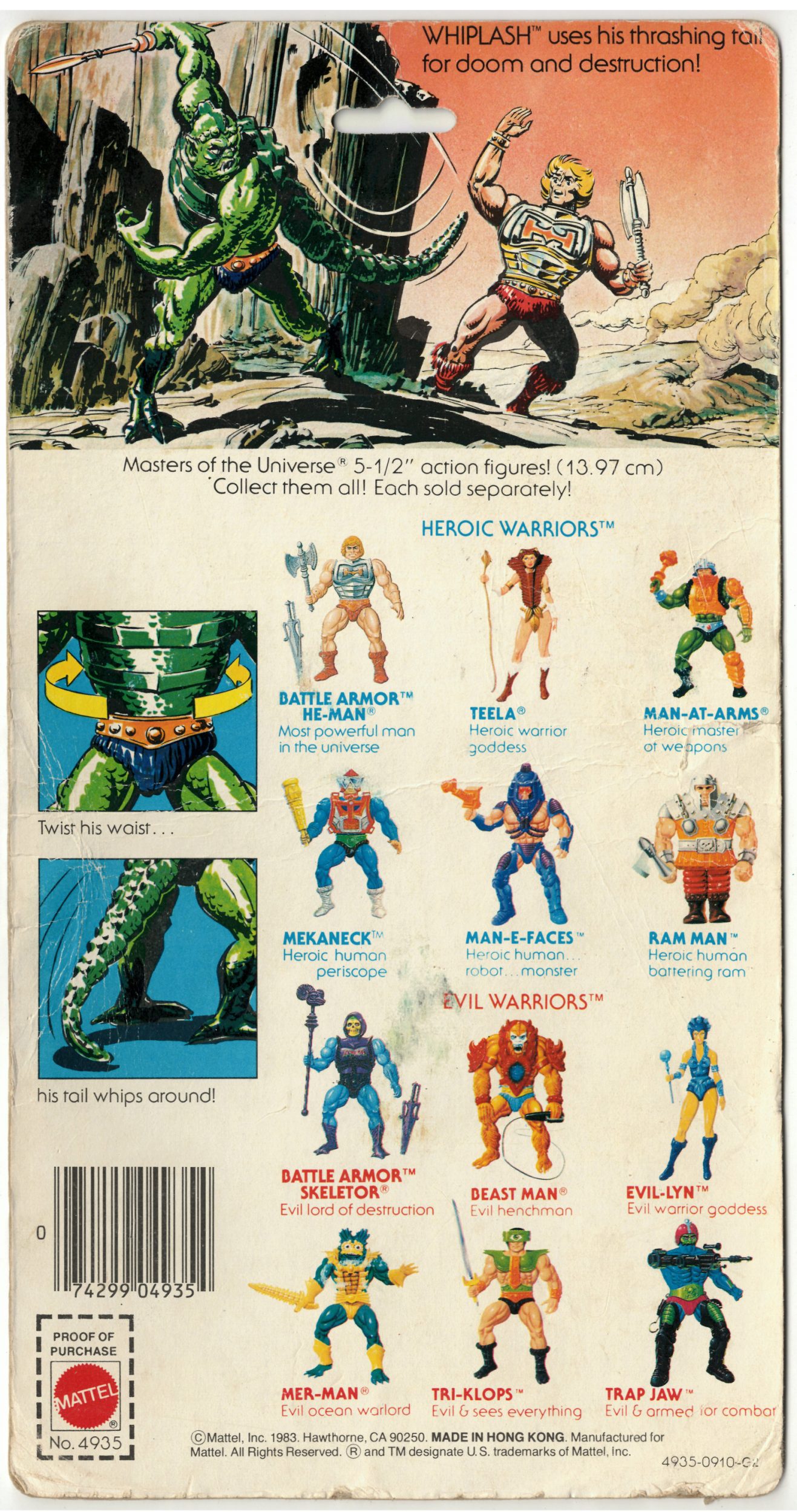 McCarthy also depicted Whiplash in several other contexts:
The last image from the series above was used for a T-Shirt design. The final design (below) was colored, with the purple spear that appeared on the prototype version (images courtesy of Unsung Woodworks):
Whiplash was also sold in two giftsets – in a three-pack with Webstor and Stinkor, and a JCPenny two-pack with Kobra Khan:
Whiplash makes only two appearances, apart from his debut, in the minicomics. He shows up, confusingly, as a member of the Evil Horde, along with Clawful, Jitsu, Leech and Grizzlor, in Mantenna and the Menace of the Evil Horde!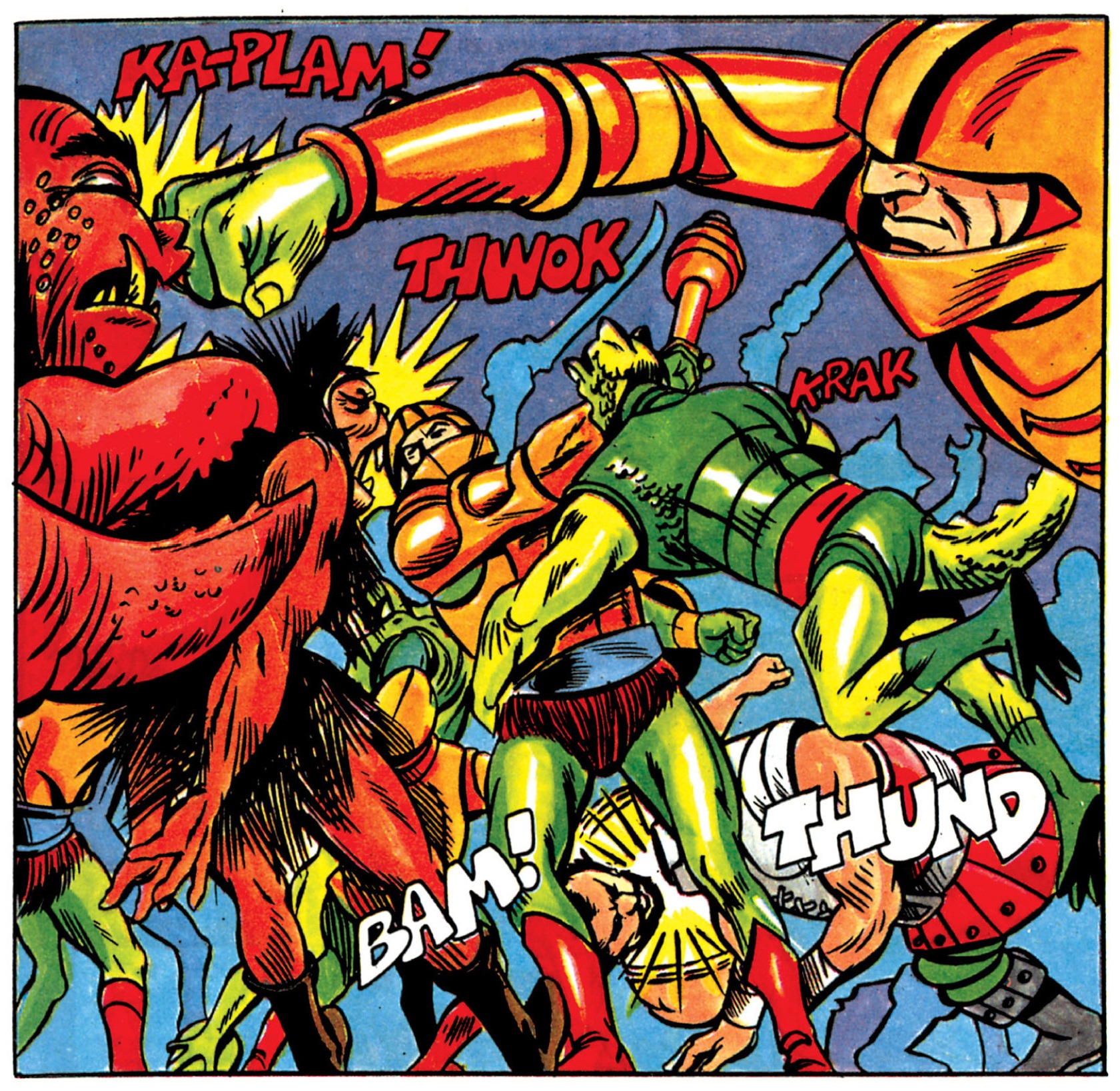 He also makes an appearance, this time as part of Skeletor's crew, in Hordak – The Ruthless Leader's Revenge! While his depiction in the Mantenna comic was relatively toy-accurate, here he borrows the design from The Clash of Arms, albeit with corrected colors: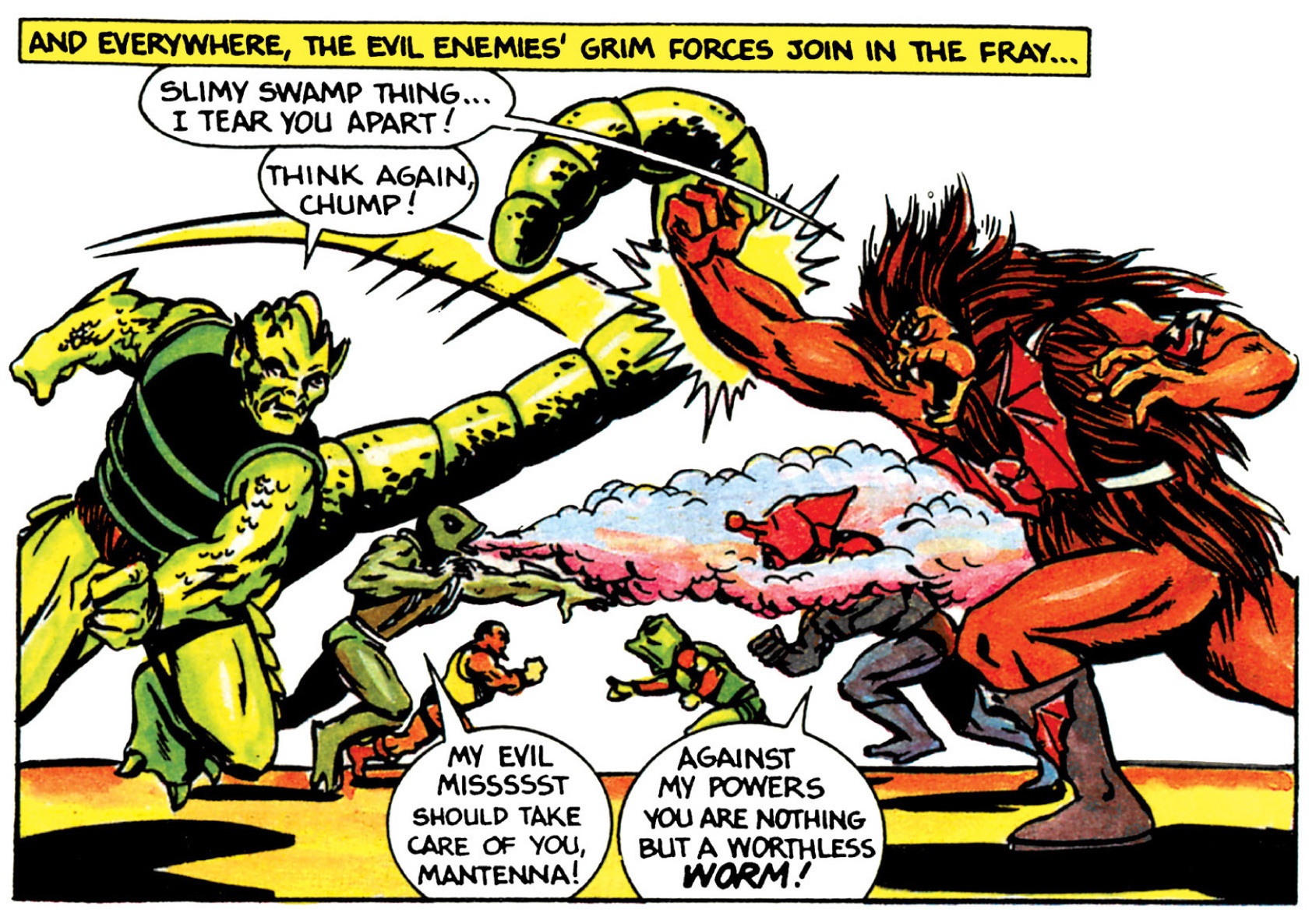 Whiplash appears in several of the Golden Books stories. One of my favorite is a scene from Secret of the Dragon's Egg, where Whiplash lies in wait within a cave to ambush Man-At-Arms. Interestingly, the artist (Louis Eduardo Barreto) depicted the scaly villain with spikes around his shoulders:
A more toy-accurate Whiplash plays a minor role in The Magic Mirror, illustrated by Fred Carillo: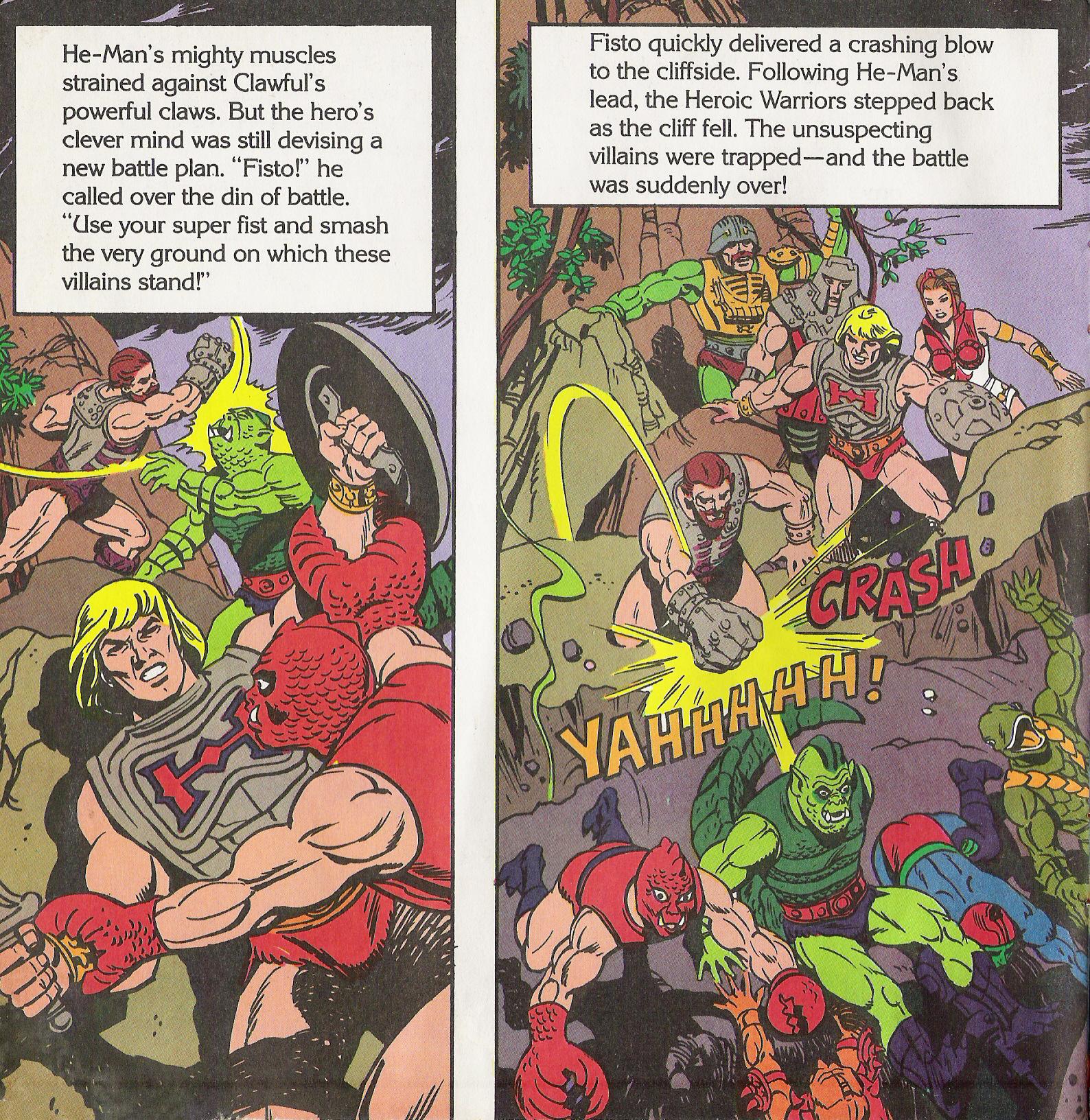 Whiplash is again depicted with spikes around his shoulders in Maze of Doom, illustrated by Al McWilliams. It seems likely he used Barreto's art as a reference for the character.
Filmation's He-Man cartoon usually depicted Whiplash as one of Skeletor's more competent Henchmen. Design-wise, the animated version of the character is more or less a simplified version of the action figure, but with Mer-Man-like feet, blue wrist bracers, and no orange belt.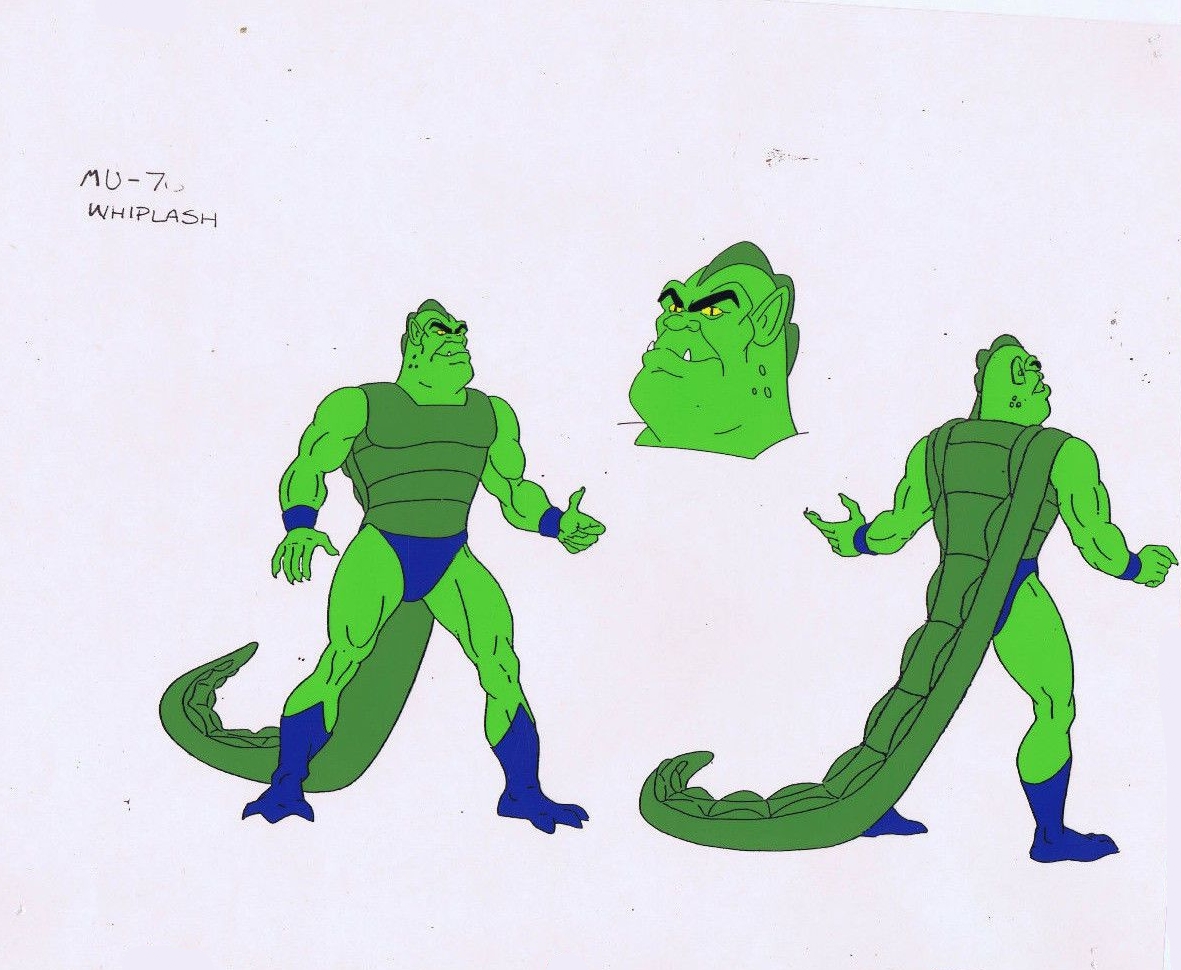 One of my favorite episodes where Whiplash plays a prominent role is "To Save Skeletor". In the story, Whiplash arrives half-dead at the royal palace, pleading for help from the heroic warriors. As it turns out, Skeletor had summoned an extra-dimensional being named Sh'Gora with the intent of using him to take over Eternia, but the creature had quickly overpowered the evil warriors and was threatening to destroy the planet.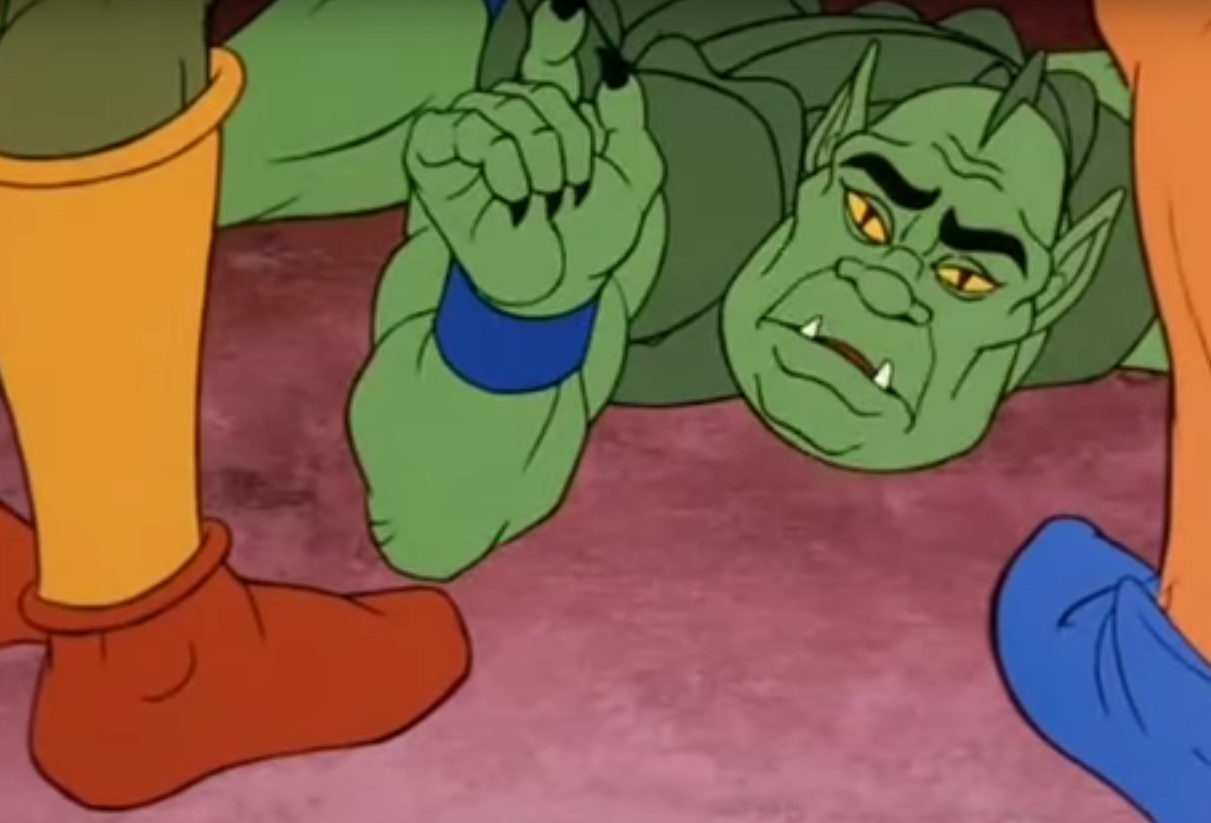 Whiplash makes a couple of appearances in the box art – once in the Fisto and Stridor giftset, and once in the Battle Bones box art:
Whiplash also makes a couple of appearances in posters by William George, from 1984 and 1985 respectively:
Whiplash appears prominently in one of my favorite pieces of MOTU artwork – a poster by Earl Norem that appeared in the inaugural issue of the US release Masters of the Universe Magazine. The poster features He-Man, Stridor, Buzz-Off, Webstor, Clawful and a somewhat Filmation-inspired Whiplash: