Hurricane Hordak, released in 1986, is the first of two Hordak variants, and the only version of Hordak (in the vintage line) with any significant changes to his costume.
Design & Development
Hurricane Hordak in some ways is more similar to his animated counterpart than the original Hordak release, in that his arm ends in a "cannon" (or something that looks like one) and "transforms" into different weapons.
Recently Kris Oneida shared some reference Polaroids shown to him by MOTU minicomic colorist Charles "Skip" Simpson. Among them was a blue-skinned Hordak prototype with gold armor. Was this meant to be a Filmation-inspired variant of Hordak? Or perhaps an alternative color shot intended to be the original Hordak release? Without a date it's unclear, but the gold armor certainly recalls Hurricane Hordak.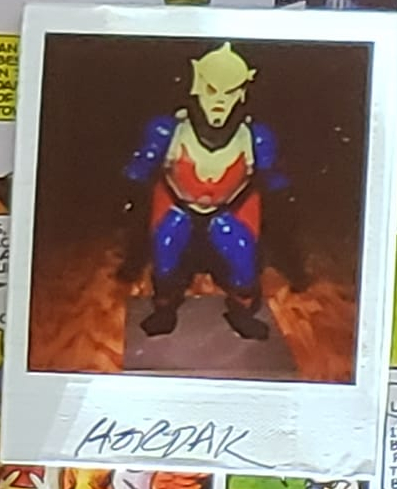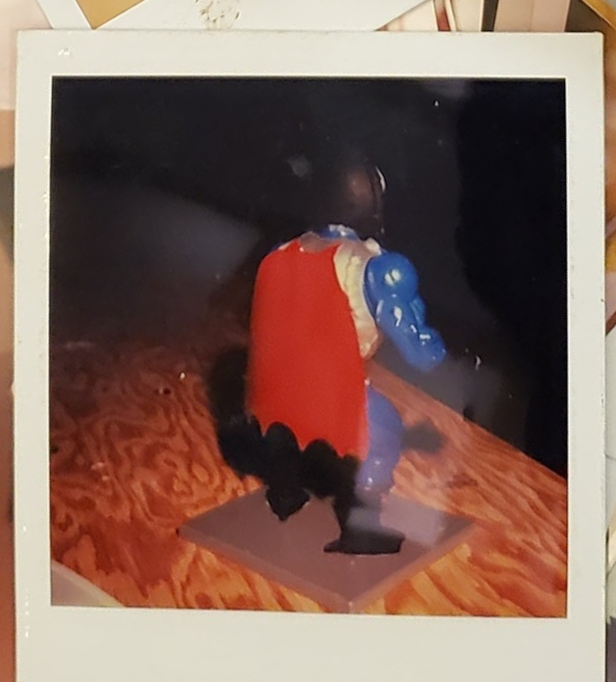 Hurricane Hordak's action feature was actually originally intended for a different figure, as illustrated in this July 8, 1984 "Rotary Man" concept by Ted Mayer:
On October 11, 1985, Hurricane Hordak's patent claim was filed by Mattel (it was not granted until 1987). The following drawings were included:
I haven't seen any concept art specifically for Hurricane Hordak, but you can see the final look for the character in this cross sell artwork:
Production Toy
The final production toy can be seen in these US and France catalog images, along with other 1986 variants, Flying Fists He-Man and Terror Claws Skeletor (image from Nathalie NHT):
Hurricane Hordak included three arm attachments (similar to Trap Jaw and Roboto before him), all of which could be rotated at the end of his right arm by thumbing the red wheel on his back. In the instructions in the packaging, the attachments are called the Thunderball Mace, Battle Shield, and Bat-Wing Propeller:
Hurricane Hordak came on a large, deluxe card, with dynamic artwork by William George on the front.
The back of the card features artwork by an unknown artist depicting Hordak breaking into Snake Mountain with his "Battle Shield":
Media
The 1987 MOTU Style Guide features Hordak in his Filmation look (illustrated by Errol McCarthy, but when discussing his weapons, it references the attachments included with Hurricane Hordak:
Weapons: Now he has fashioned gruesome weapons such as helicopter-like bats-wings propellor, 4-pronged "kinetic shield" and 3-headed "thunderballs" mace that all attach to his whirling arm.
Hurricane Hordak appears in The Hordes of Hordak, along with the minicomic introduction of the Horde Troopers. He has the whirling attachments, but is shown the in the colors of the original 1985 action figure:
Hurricane Hordak was featured in a number of UK and German MOTU Magazine issues, including in these full color posters by artist Esteban Maroto from the Ehapa Verlag issues:
He's also featured in the 1986 Eternia poster by William George:
Hurricane Hordak in Action
Øyvind Meisfjord has graciously contributed the following image and video showing Hurricane Hordak in action: