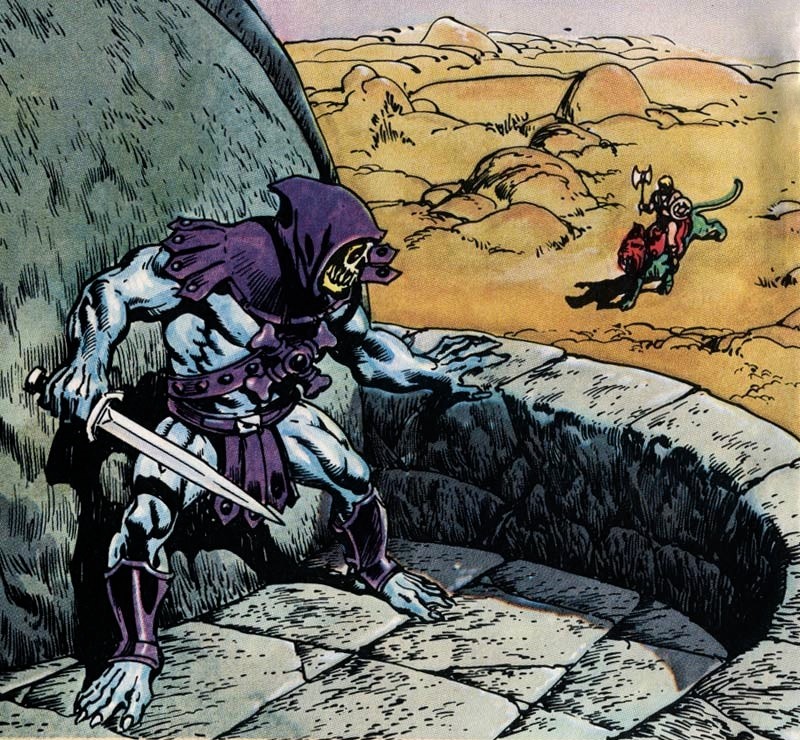 Skeletor's most iconic weapon has always been his havoc staff, with its distinctive and menacing ram's skull. The two are so interconnected as to be practically inseparable. Skeletor also carried his purple half of the power sword, and it made plenty of appearances in mini comics and story books.
There is however, another weapon that Skeletor carried in the 1982 mini comics (artwork by Alfredo Alcala, story by Don Glut). This was Skeletor's energy blade (sometimes called lightning blade or lightning weapon). It was a fairly ordinary-looking short sword with a curved hilt that was capable of releasing searing blasts of energy, or even calling up magical images.
I always assumed that this particular sword's design was an invention of artist Alfredo Alcala. But I recently noticed what appears to be the same sword showing up in early box art by Rudy Obrero. That lead me to believe that the energy blade may have originally come from Mattel*. I'd like to think there is a B-sheet lying around in a box somewhere with a drawing of this sword in it. Without definitive proof, of course, we can't know for sure.
Here are some representative appearances of the energy blade in the 1982 mini comics. There is some variation with how it was drawn, even within the same comic:
Here are the appearances of the sword in Rudy Obrero's packaging illustrations for the Battle Ram, He-Man/Wind Raider, Wind Raider, He-Man/Battle Cat, and Castle Grayskull boxes. Note that at times Beast Man carries the same sword:
Incidentally, a sword of the same design appears in Man-At-Arms' hand in the 1983 comic book, The Power of Point Dread: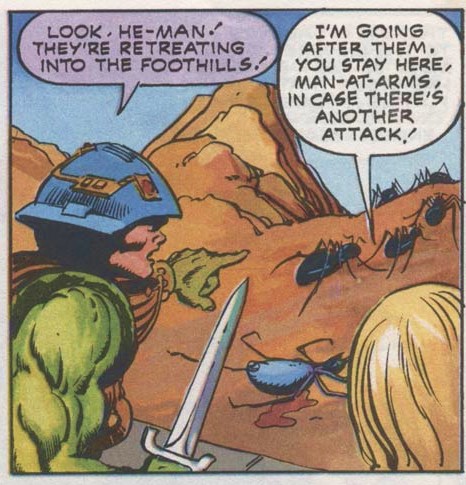 He-Man holds a similar sword on the cover of the same booklet (hat tip to Jukka Issakainen):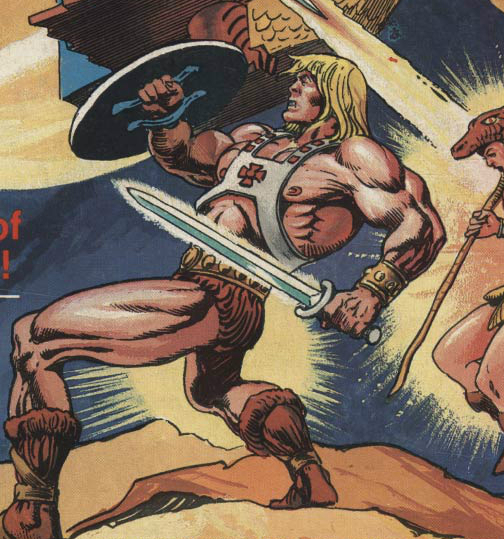 Somewhat similar swords appear in this 1982 advertisement for Faker: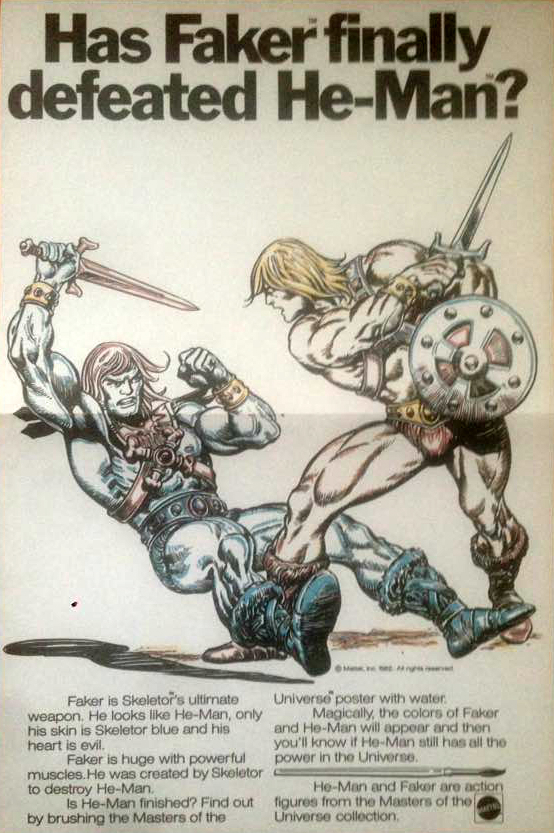 In one depiction of Mark Taylor's Vikor character (who pre-dated He-Man), Vikor carries a sword similar to the energy blade: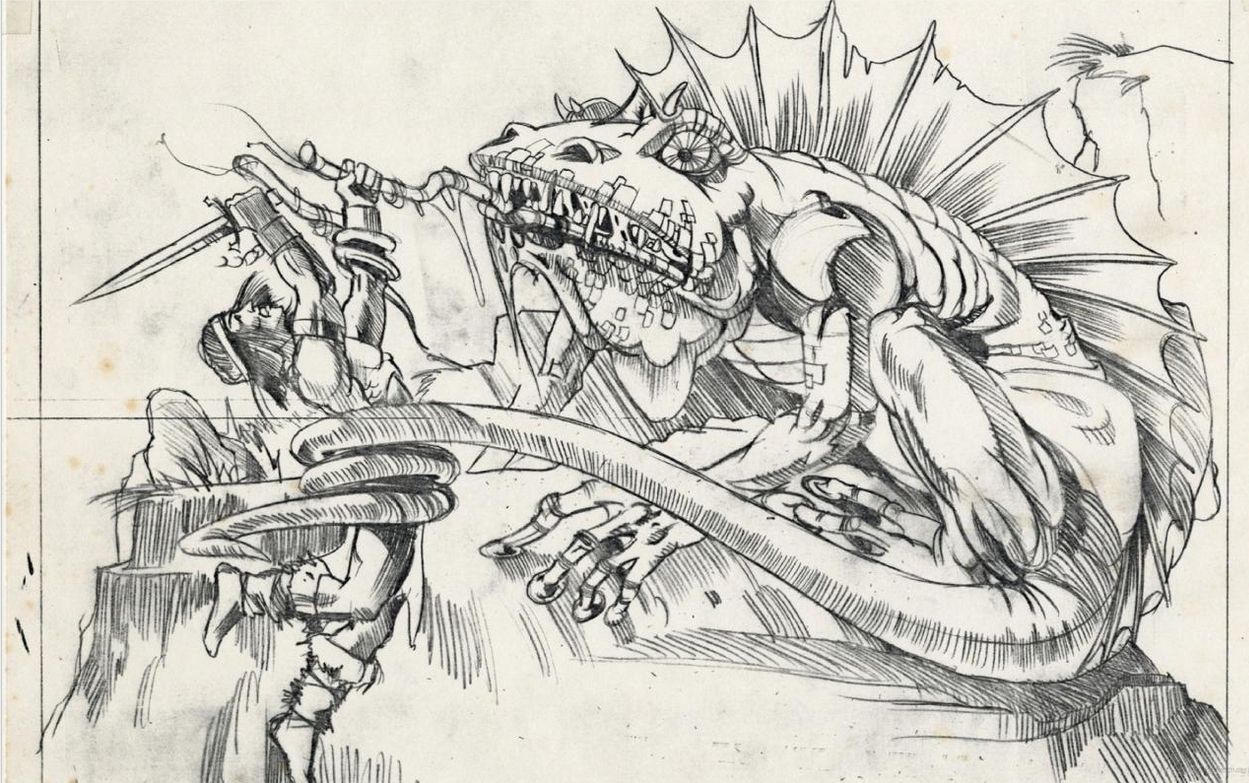 *Update:
Øyvind Johannes Meisfjord pointed a fatal flaw in my reasoning. It seems that Alfredo Alcala drew a very similar looking sword that predated the He-Man property by several years: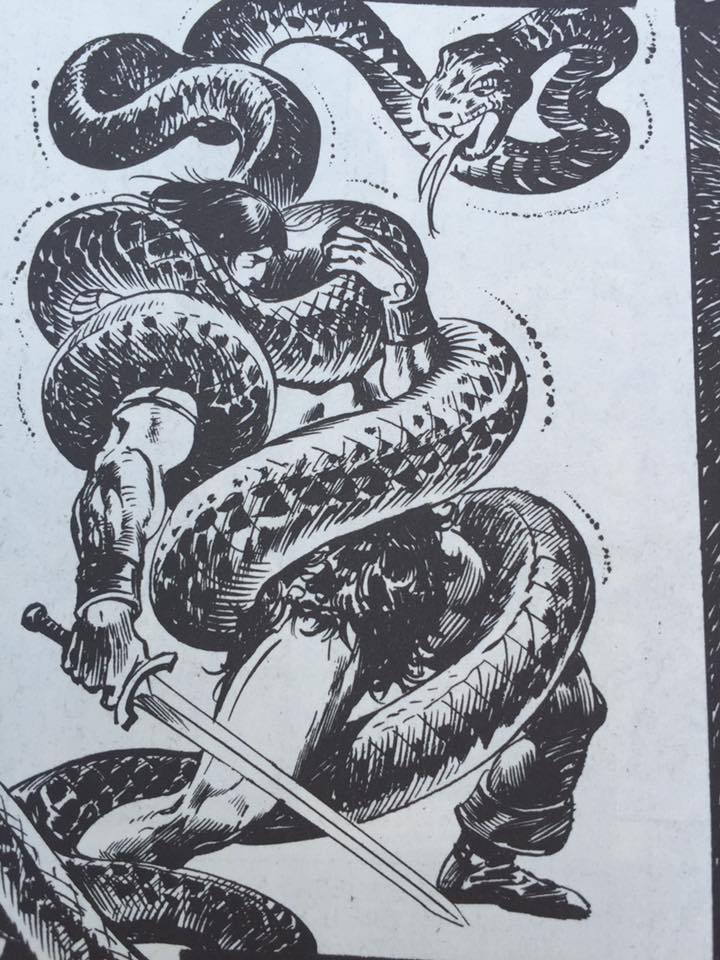 Furthermore, swords similar to those in the Rudy Obrero illustrations show up in artwork by Frank Frazetta and John Buscema throughout the 1960s and 1970s:
Given this evidence, it seems unlikely now that the common source for this design was Mattel (it's possible, but I don't think a strong case can be made for it). I have to conclude that Alfredo Alcala was drawing upon the fantasy concepts he'd been illustrating for years, and Rudy Obrero was drawing upon general sword and sorcery themes of the '60s and '70s. Given Mark Taylor's Frazetta influences, he probably drew from the same general creative well for his Vikor sword.
Thanks to Øyvind for challenging my theory. I think it's been successfully refuted!