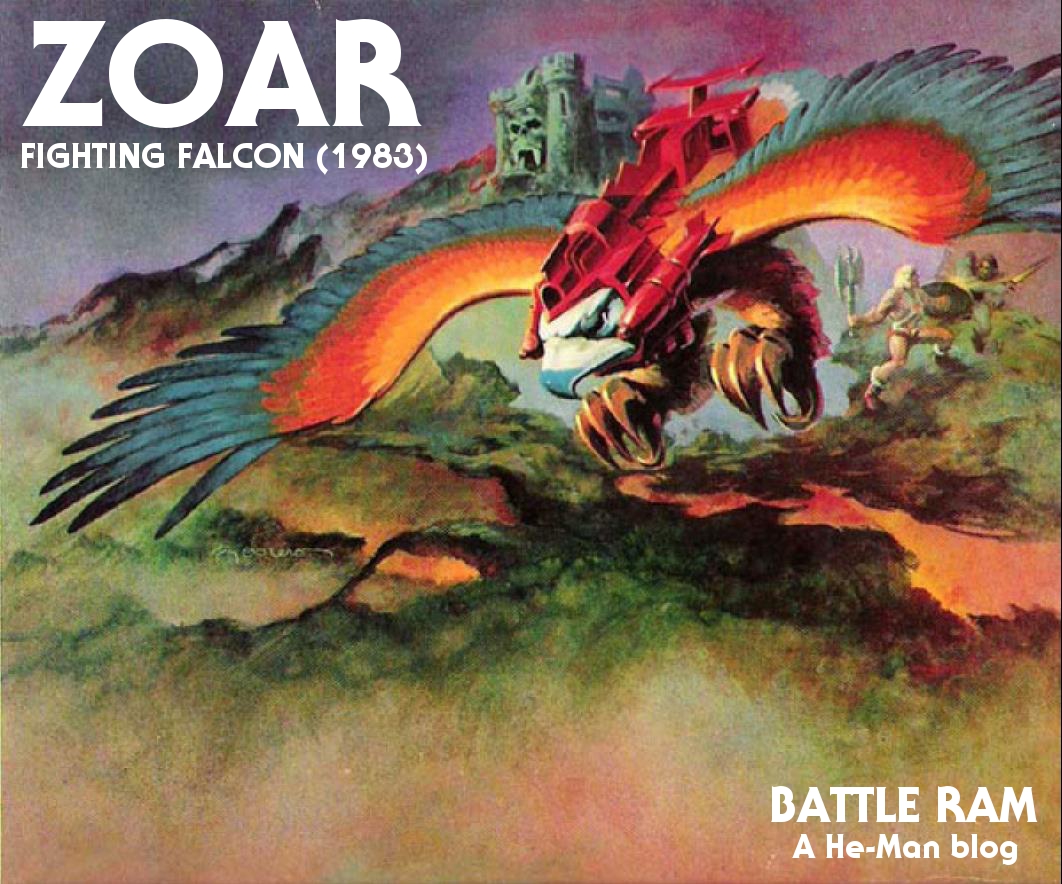 Zoar, released in 1983, is at once a toy with a fascinating history and a character with a conflicted set of origins.
I was given Zoar as a birthday gift along with Ram Man and Man-E-Faces. I had endless fun zooming around the house with him. There was something fascinating to me about the rubbery texture of his wings and his surprisingly effective wing-flapping action feature.
Like Battle Cat, Zoar was made from a previously existing mold. The Fighting Falcon started life as The Eagle in the Big Jim toy line. Released in 1973, the Eagle featured realistic colors and was packaged in several different configurations.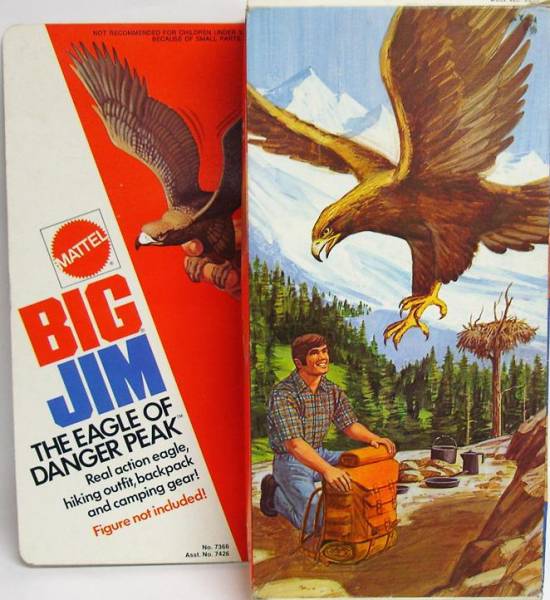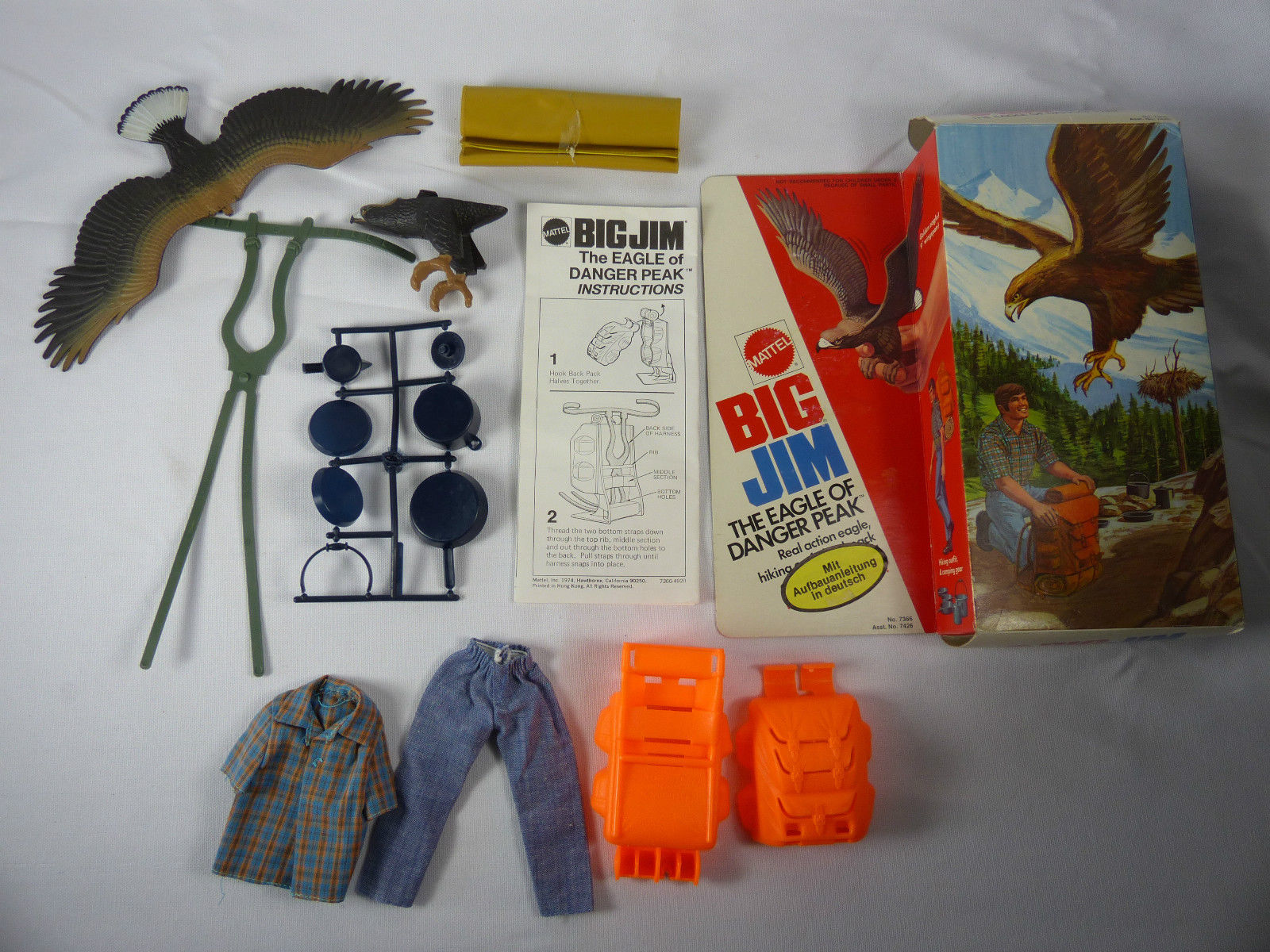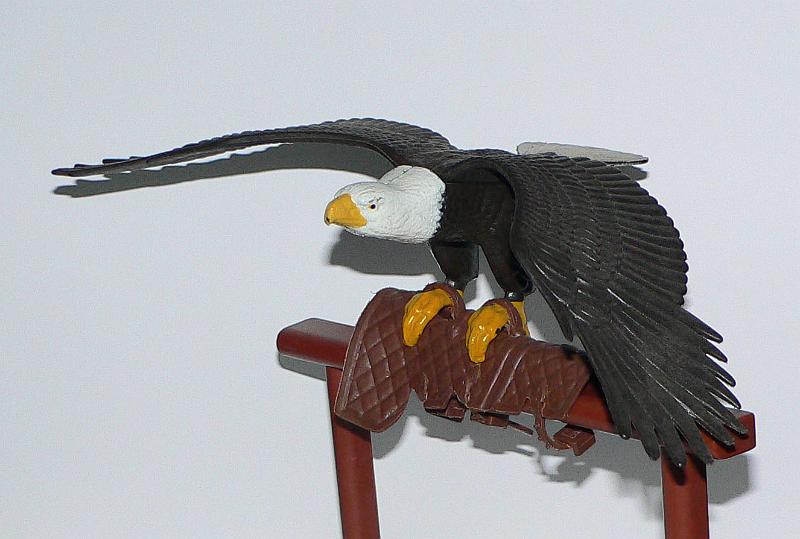 Indeed, it's possible that Zoar might have been intended to look exactly like the original Big Jim bird, if this 1982 Masters of the Universe Pop-Up Game is any indication:
Update: Tokyonever has contributed pictures of a potential Zoar prototype. It has a lot of similarities to one of the Big Jim birds, although the exact color scheme is more complex, with a mix of brown, magenta, orange, black and white. Mattel may have been trying out a number of different color combinations for use with MOTU. It can't absolutely be confirmed the the prototype below is Zoar and not a Big Jim bird, but my opinion is that it probably was, given some of the other authentic MOTU items that were sold to Tokyonever by the same source:
Zoar was soon given a more vivid color scheme. An early prototype image shows Zoar with a reddish color scheme, sitting on an apparently gray perch. The colors don't show well in the image, so there is some ambiguity here about the exact shades used:
Another stage of Zoar's design can be seen on the back of this mini comic book. Zoar appears in varying shades of orange, and he's also wearing green armor outfitted with rocket boosters and bombs:
As an aside, the cross sell artwork for Zoar was drawn by Mattel artist Errol McCarthy. Here is the original line art:
The red and orange color schemes also appears in some of the 1983 mini comics, which were no doubt produced while Zoar was still in development. Earlier DC comics feature what appears to be a brown Zoar:
The final toy was given a much more colorful paint job, with orange wings and body and blue and white accents. His stand and bomb pack were a bright red instead of the original green.
As with his Big Jim ancestor, a lever on the back of Zoar's legs could make his wings flap. His red bomb pack somewhat hindered the movement of his wings, but it was removable.
Zoar is featured quite prominently in this commercial from Top Toys (a licensee based in Argentina):
Zoar was sold in a number of different configurations. As a single figure, his packaging featured an illustration by the amazing Rudy Obrero. The artwork catches Zoar in mid-dive in the foreground while He-Man and Skeletor duke it out in the distance, presumably fighting over Castle Grayskull:
Zoar was also sold in a gift set with Teela. It is not known who painted the artwork, but they clearly based their depiction of Zoar on Rudy Obrero's artwork:
Zoar was also sold in a two-pack with Ram Man, although the box itself was nothing to write home about:
Interestingly, in the early 1970s Mattel produced a flying eagle toy named Zorr (thanks to Tokyonever for pointing that out). So the name as well as the figure seem to have been recycled from a decade earlier.
Although Zoar had sometimes been associated with the Sorceress (the version with snake armor from pre-Filmation comic books), it was Filmation that made them quite literally inseparable.
In the Filmation Series Guide, it's made clear that the Sorceress can only leave Castle Grayskull in falcon form – as Zoar. Until the debut of the Filmation cartoon, Zoar had always been referred to as a male falcon. The Series Guide design for the Sorceress is quite radically different from both previous and final designs, of course. Presumably they were trying to move away from the snake armor version of Sorceress, to avoid confusing her with Teela.
The Filmation cartoon eventually settled on a design for the Sorceress that followed the cues from the toy version of Zoar. Her costume had orange wings, with blue tipped feathers and white accents. When in falcon form, she never wore the bomb pack that came with the toy.
In Zoar's appearances in the Golden Books, she (as the animal form of the Sorceress) was more or less colored like the toy, but with some additional red accents, and sometimes with a white body:
In later mini comics, Zoar would be portrayed in pale blue or sometimes pink:
A toy-accurate version of Zoar eventually made it into the mini comics in 1985:
Notice that Teela rides on Zoar (hat tip to Jukka Issakainen). In this 1983 Kid Stuff audio book, Man-At-Arms is also said to ride on Zoar:
Man-At-Arms also rides on Zoar's back in the Kid Stuff audio book, He-Man and Battle Cat:
Like Battle Cat before him, Zoar's existence is probably due to the desire to flesh out the MOTU toyline with minimal capital expenditure. Despite the cheapness inherent in that philosophy, a lot of truly great figures came to us in that way. I think that says something about the creativity and ingenuity of the Mattel design team.
Special thanks to Jukka Issakainen for providing many of the images used in this blog post.