When I was a kid, I was first introduced to Faker when visiting with a friend. I don't remember him being a highly demanded figure among my peers. I liked him but I don't remember begging my mom for a Faker figure. But among the adult collector community, Faker (along with Zodac) seems to have garnered something of a cult following. I can't quite put my finger on why that might be, but at the gut level I'm right there with the rest of the fans.
By the time Faker was released in 1983, Mattel would have known they had a hit on their hands with Masters of the Universe. The brand had already made many millions of dollars in 1982, the year of its introduction. So was Faker released because he was cheap to make and the profit margins would be higher than other figures? Or was it because he required no new tooling and would allow Mattel to have another figure out in the market without much lead time? I tend to think it was the latter. New tooling would take time to put together, and Mattel showed they were willing to invest in new sculpts in the 1983 lineup. Meanwhile I would think they would wish to capitalize on the unexpected success of the MOTU line as quickly as possible.
In terms of design, Faker is, very simply, a He-Man figure with Skeletor's sword and armor, recast in eye-catching candy colors.
In terms of parts reuse, no other figure was as direct a reuse of previous parts as Faker. Even Stinkor and Moss Man (reused from Mer-Man and Beast Man, respectively) got some scent added to their plastic or a coating of green fuzz, in the case of Moss Man. Faker is just Faker. There is something appealing about that design though. Maybe it's the color scheme. Orange and blue are complimentary colors, after all.
The Faker prototype below is just a repainted He-Man figure. You can see a bit of the original color coming through on one of the legs. The prototype has the same orange color on the hair as on the armor and sword, compared to the final toy that had dark red hair. You can see this is made from an earlier He-Man figure, because it has the irregular looking belly button common on early He-Man figures. Some production Faker figures lack the belly button, just as He-Man did starting in 1983, but others retain it. The prototype below has red eyes, while the production figure had black eyes.
It's possible that the idea of Faker being a robot was not the original concept for the character. In this 1982 color-changing advertisement, illustrated by Alfredo Alcala, Faker is described as having powerful muscles, and there no mention of robotic parts.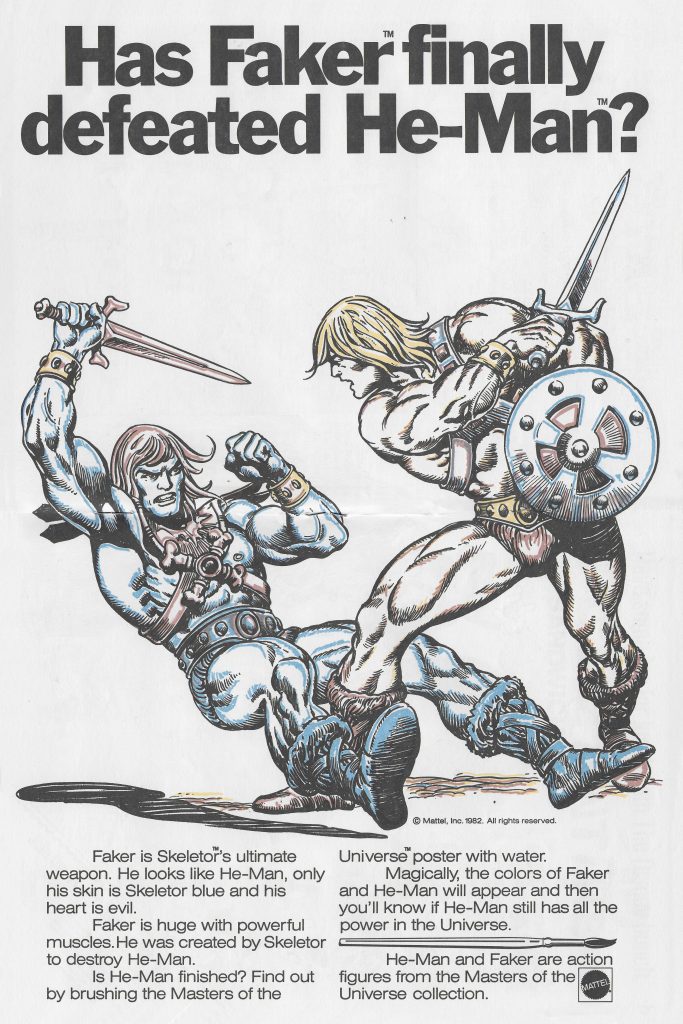 Faker came with the sticker on the chest, mostly hidden under the armor. It looks like it's meant to represent his robotic control panel. To me it actually looks more like a reel-to-reel tape system. I like to think that Faker would be rocking out to The Fixx as he launched his assault on Castle Grayskull.
When Faker was released in 1983, he came on the same 8-back card as the original 8 figures. He must have been released in relatively low quantities, as a carded example is tough to come by now.
A rare variant of Faker (made in Taiwan) came with Skeletor's arms. This particular version is from 1983, but includes the updated cardback with artwork by Errol McCarthy. Unless the figure is carded, it's really impossible to tell if the figure's arms were swapped with Skeletors, making it a variant that really only has value if it is carded.
Faker was depicted with Skeletor's arms in a couple of posters illustrated by William George, and in the reissue card artwork illustrated by Bruce Timm (hat tip to Antoine D.):
There is a lot that can be said about production variants of Faker. The version produced in France had bright purple trunks:
Interestingly, a few early versions of Faker (made in Taiwan) seem to have come with an orange copy of Skeletor's belt and possibly his havoc staff too:
For more discussion on that topic, see this thread.
Probably the most sought after production variant of Faker is the Leo Toys India version. It came with all of Skeletor's armor and accessories in either orange or red, and a rather striking bit of paint around the eyes that resembled the Lone Ranger's mask:
The version with pink armor seems to have been patterned after the cross sell art colors:
Faker was also unusual in that he got a re-release in 1987 after having been discontinued for years. The line was struggling at the time, and most new figures were heavily reusing old parts. It must have seemed a good time to bring Faker out of retirement.
Notably, this late version of Faker came with a hard rubber head rather than the soft polyvinyl of the original release. In my opinion the hard heads don't look as nice. The sculpt seems a bit off and doesn't have the nice matte finish quality of the hollow polyvinyl heads. As Rahul notes in the comments, these ones had heads cast in orange with painted on faces, instead of the blue cast heads of the original release. Some versions have the larger Thunder Punch He-Man feet as well:
Faker didn't appear in a lot of media. He didn't show up in a mini comic until his 1987 release with the Search for Keldor mini comic, where he was swiftly dispatched with a spear to the heart from King Randor:
Faker starred in his own commercial. Apparently this was produced in 1982. Could the figure have been released in 1982? Possibly, but if so, very late in the year.
Faker doesn't appear anywhere in the 1982 dealer Catalog. He shows up for the first time in the 1983 edition:
Faker made a brief appearance in the 1984 Masters of the Universe Annual:
He also appeared a few times in illustrations by R.L. Allen and Fred Carillo:
Faker made a single appearance in the Filmation cartoon. While his design was a bit boring (it's just He-Man with glowing eyes), it made a lot more sense, plot-wise. If Faker is supposed to be an evil He-Man impersonator, he would only be effective in that role with the same coloring and clothing as the real McCoy. But then, if you wanted something like that as a kid, you would just buy two He-Man figures. I don't know of many moms who would have gone for that.
At the end of the episode, He-Man defeats Faker and sends him falling down the bottomless pit near Castle Grayskull. Skeletor makes it known that he plans to restore Faker somehow. I like to think that either the trip down the hole or the restoration would somehow have left him permanently blue.
He's given possibly his best origin story in the 1984 UK Masters of the Universe Annual:
Finally, making up the whole of Skeletor's evil gang is Faker, a being created by Skeletor himself with the aim of looking exactly like He-Man, to create maximum trouble and confusion. Unfortunately for Skeletor something went wrong in the spell, and Faker is a miscoloured and negative version of He-Man, easily detectable as the evil being he is. Through magic, Skeletor can make him into an exact likeness, but the spell lasts only a very short time, and the evil creature is soon revealed.