Update: this post has been recently updated with slightly nicer quality images, plus a new picture not previously shared. Many thanks to Andy Youssi.
A rather incredible set of pictures has recently surfaced, showing early Masters of the Universe prototypes. Shared by Andy Youssi, son of freelance artist John Youssi, these images come from a collection of slides set in a View-Master-like apparatus. Apparently this was a very early promotional item.
John Youssi (known for his pinball machine illustrations) did illustrations for MOTU retail display cases and marquees, and Mattel shipped him these early prototypes, as well as the pseudo View-Master. Andy had the good fortune of being able to play with these prototypes for a month, while his father used them as models for his illustrations.
Andy describes his experience playing with these amazing prototypes:
Hold onto your seats for this, but after these slides, Mattel actually shipped the prototypes to my Dad for a month so he could illustrate the characters & Castle Grayskull in detail for some of the promotional posters & display shelves put up in toy stores. My introduction to loving Masters of the Universe was seeing & falling in love with those Lords of Power prototypes as a 5 year old kid, before the public knew what any of this was! I think the saddest day of my childhood was when my Dad's illustration jobs were finished, and he had to pack the prototypes up & ship them back to Mattel… but that month with them made me a fan for life before they even hit stores! One of the most exciting emotions I had was the anticipation of them being released in stores, and building the collection up again, knowing we could actually keep it this time!!!
It's been known for some time that "Lords of Power" was an early working title for Masters of the Universe. In an interview (conducted by Jukka Issakainen) with packaging designer Bob Nall, the artist said:
I designed logos and packages for many brands and settled on Boys items (mostly Hot Wheels). When the product designers developed He-Man (largely designed by Mark Taylor – who worked in the same group) I had the opportunity to look at the retail face of the brand. We looked at many names before coming up with MOTU – it was almost called 'Lords of Power' but many thought that was too religious in nature.
In the first image below, we see that this is the "Lords of Power Collection". Interestingly, this set also comes with the Masters of the Universe logo as well. We've seen some of these prototypes before – He-Man, Mer-Man and Skeletor, certainly.
The Beast Man and Man-At-Arms prototypes in the image below have not been shown publicly before to my knowledge. Man-At-Arms' design brings to mind his cross sell artwork and Alcala minicomic appearances (complete with fur-lined armor and large mace); those illustrations were almost certainly based on this model. The model, in turn, is based on the original Mark Taylor B-sheet design.
Beast Man, however, is a very primitive design indeed, resembling an early Mark Taylor Beast Man sketch, but recolored in the orange, red and blue color scheme that has come to be associated with the character. This appears to have been done before Mark Taylor's final B-Sheet for the character.
From interviews with Mark Taylor, it appears that Teela was sculpted very early on, but for some reason was not included in these photos. Perhaps it was because early versions of the figure were considered by some to be too "sexy".
For comparison, here's a very early Mark Taylor concept drawing of Beast Man:
And here's Mark Taylor's finalized B-Sheet design for Beast Man:
Below are He-Man and Man-At-Arms as they appeared in He-Man and the Power Sword, illustrated by Alfredo Alcala. Note that they are both based closely on early prototypes:
This next image that Andy shared focuses in on He-Man and Man-At-Arms, with Battle Ram and Battle Cat in the background. Battle Cat is the early prototype with a striped tail and orange around his mouth. The Battle Ram is also an early prototype, more detailed than the final toy. All of these toys have finer paint applications and most of them have greater sculpted detail than their mass-produced counterparts. We can clearly see Man-At-Arms' armored fist, a detail absent from his final toy. His boots are brown, while He-Man's boots are two-toned red and yellow.
Here's a clearer view of this early Battle Cat's paint scheme:
Here's a somewhat clearer view of the He-Man prototype:
Below we see another image focusing on He-Man, Man-At-Arms, and Battle Ram. You can see that Man-At-Arms has a fully armored left forearm. In profile we see that his metal "glove" is actually a flat piece covering what looks like an unfinished left hand.
Here's another view of the Battle Ram prototype, with an earlier, helmeted version of He-Man piloting it.
In the image below we get a front-on view of the prototype Castle Grayskull – an angle we've never seen before. We can also see, for the first time, the front of the jaw bridge in this image – it doesn't have the wood details of the final toy. This particular prototype may be a different casting of the prototype than the one we've seen before. It certainly seems to have more green paint than that version (shown four images down). An article going over the differences between the prototype castle and the final toy can be found here.
In the image immediately below, Skeletor holds the castle, while the heroes launch an assault.
Note that in the image above, the back of He-Man's harness crosses in an "x" shape. This is also seen in artwork by Alfredo Alcala:
In the image below, Man-At-Arms stands at the foot of the castle. We can see the back of his armor, which is solid, as opposed to the thin straps on the final toy. Beast Man operates the laser turret, which is put on the opposite side of the castle from where it normally sits. We can see a flag that appears to depict He-Man's axe – which is certainly different from the twin sword design of the mass-produced castle.
Here we see the entire castle opened up. Skeletor and Beast Man seem to have been victorious. We see that the opposite side of this flag depicts a skull with two enlarged canine teeth. It looks somewhat like the castle's face. Note also that this prototype version of Skeletor does not have a skull face, but rather a decomposing face.
Here's another view of the Skeletor prototype, with unfinished staff. Note the decaying face. He also has bare human feet and arms with no fins.
Here's an image that wasn't shared the first time around – labeled "He-Man Collection". We get a nice view of all the toys at once, including a nice front view of Mer-Man.
Finally, here's that Masters of the Universe logo:
Thanks very much to Andy Youssi for kindly sharing these images and for telling his story. Stay tuned – he is also planning to share some of the artwork done by his father for Lords of Powe… er, Masters of the Universe!
Update: some somewhat clearer shots from the Power of Grayskull documentary: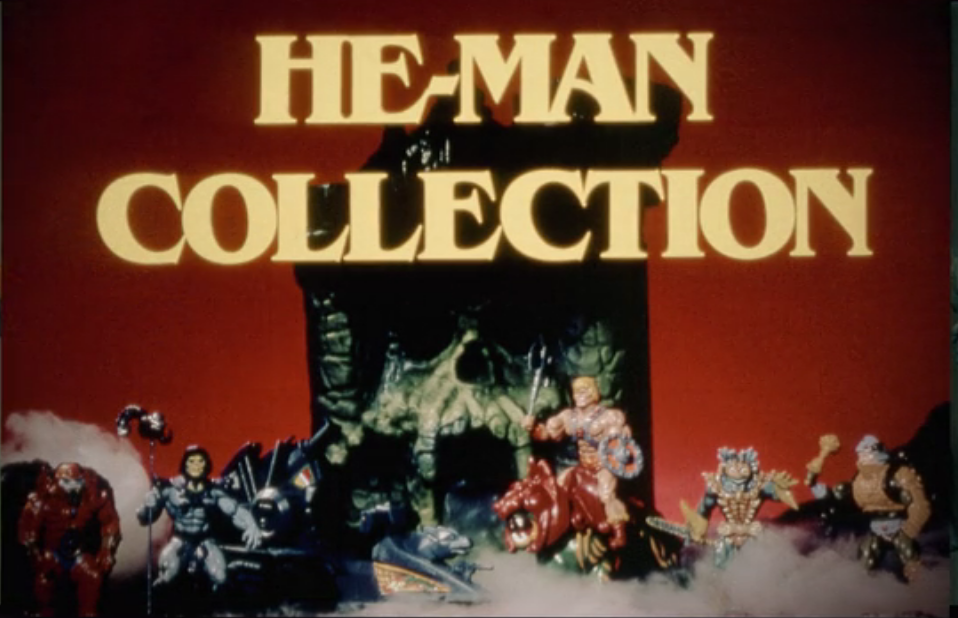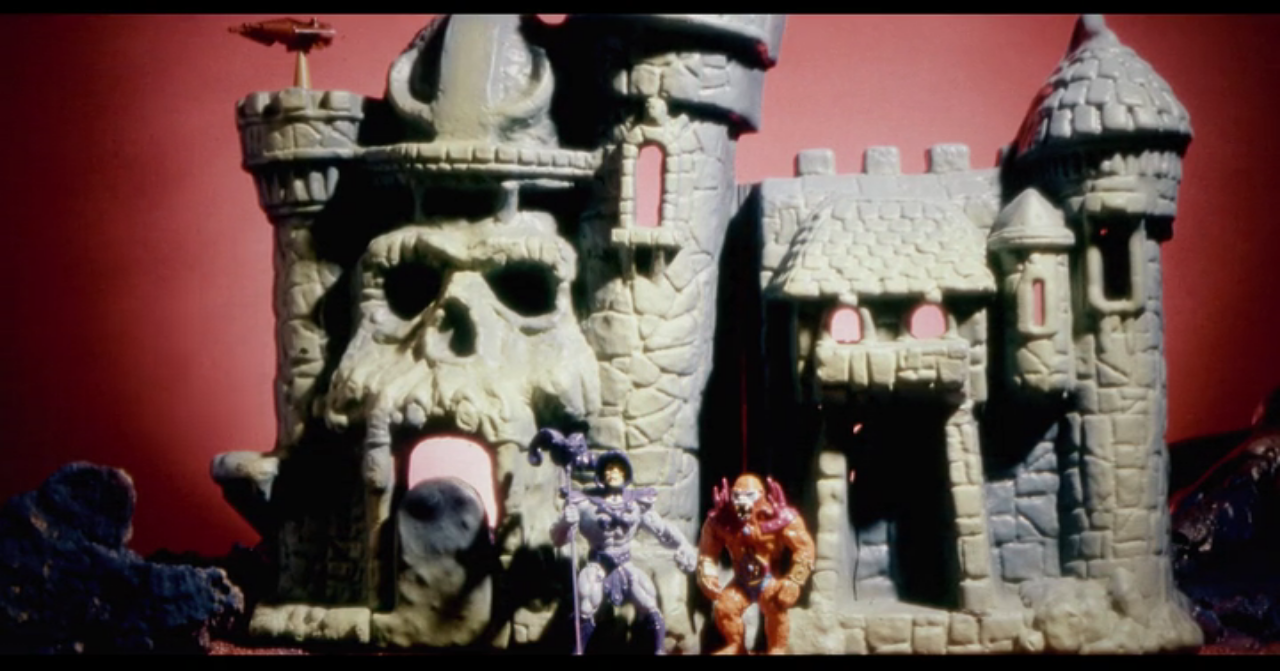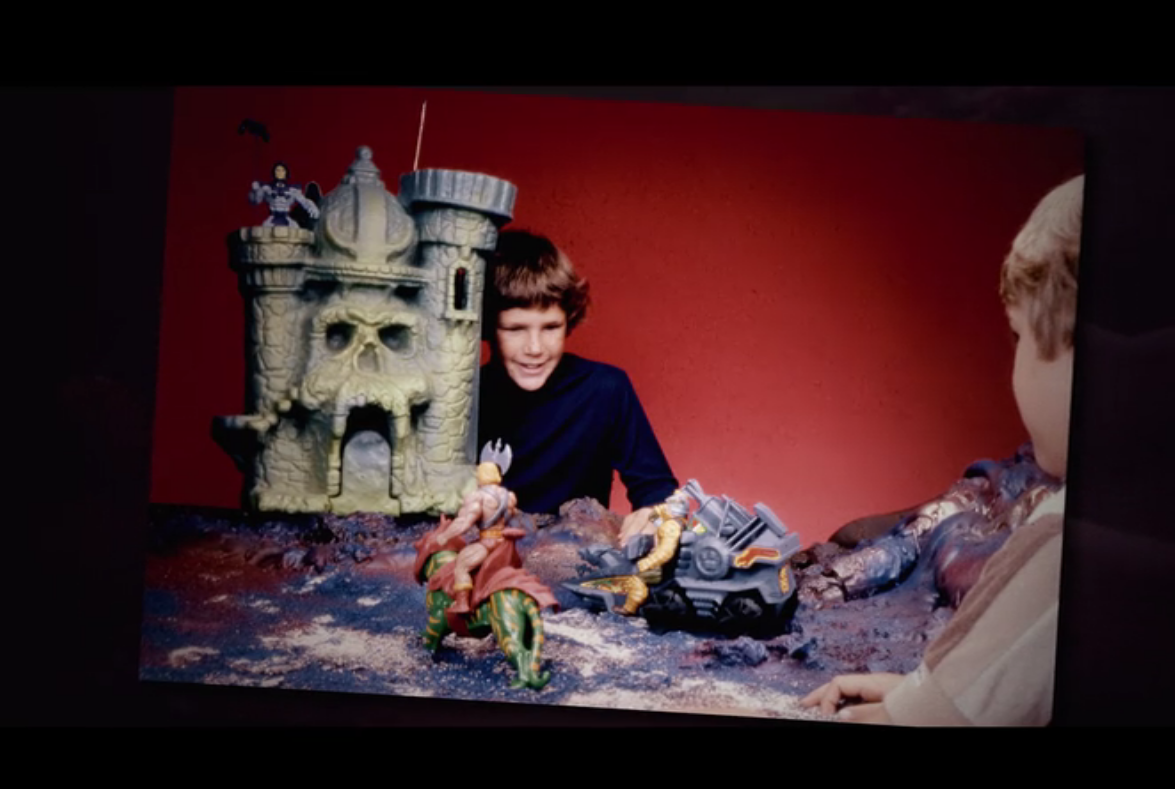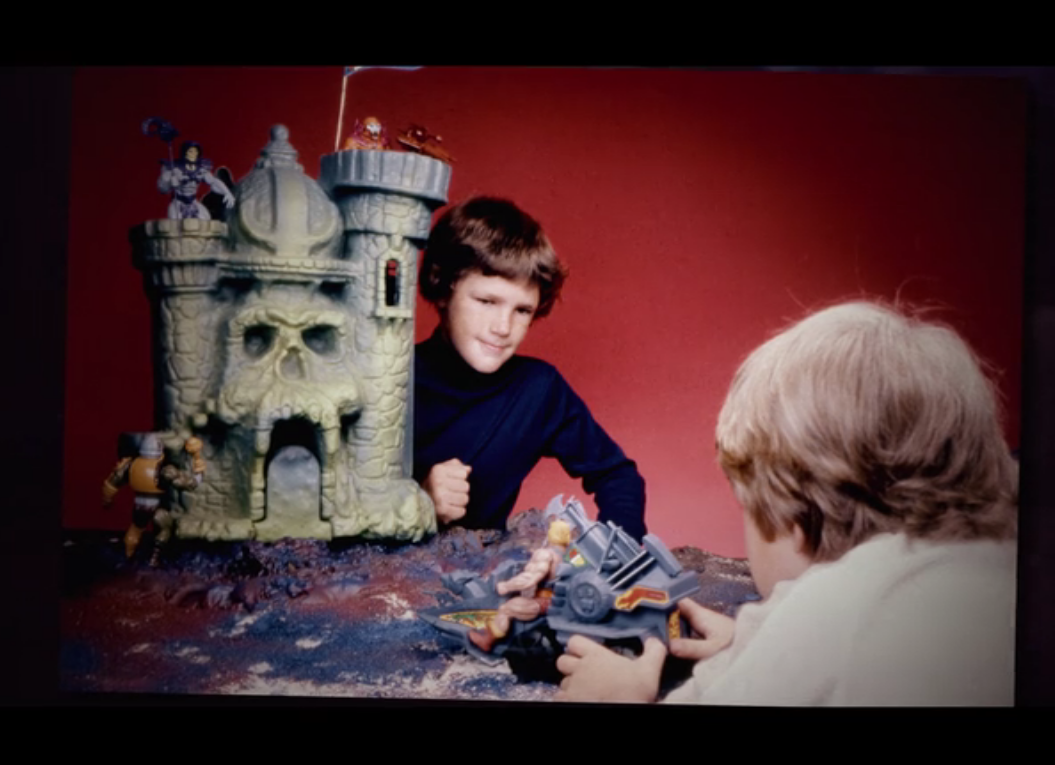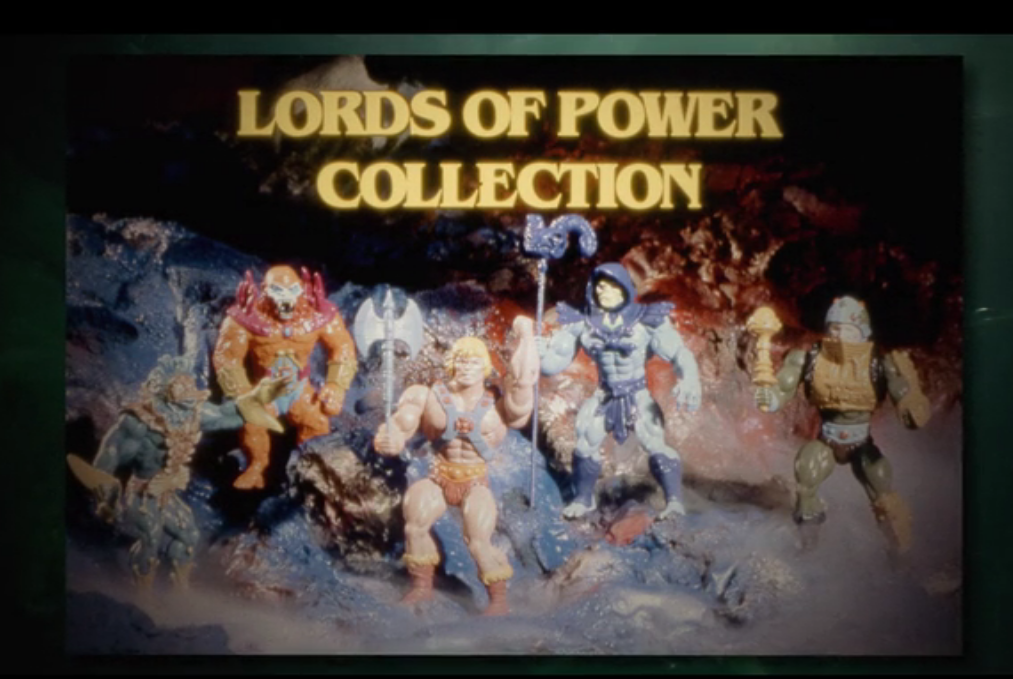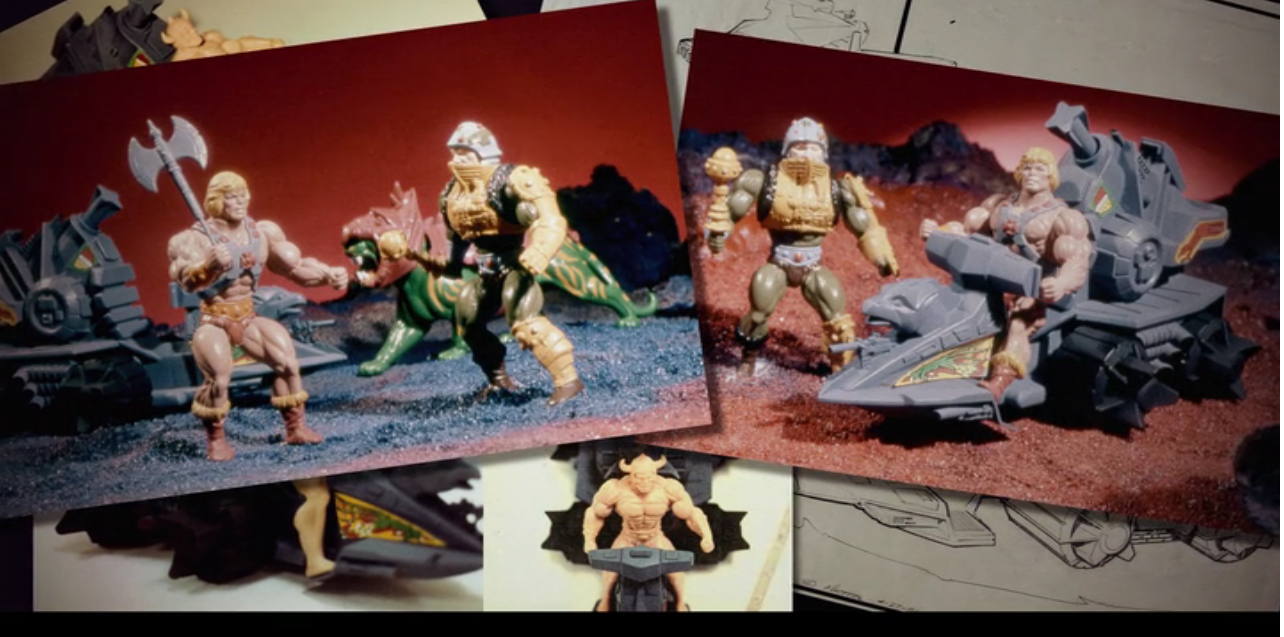 Want to support the blog? Consider becoming a Patreon supporter. You'll also gain access to exclusive content and early access to posts on the blog. Alternatively, you can do your toy shopping through my Entertainment Earth affiliate link, below. Thank you!