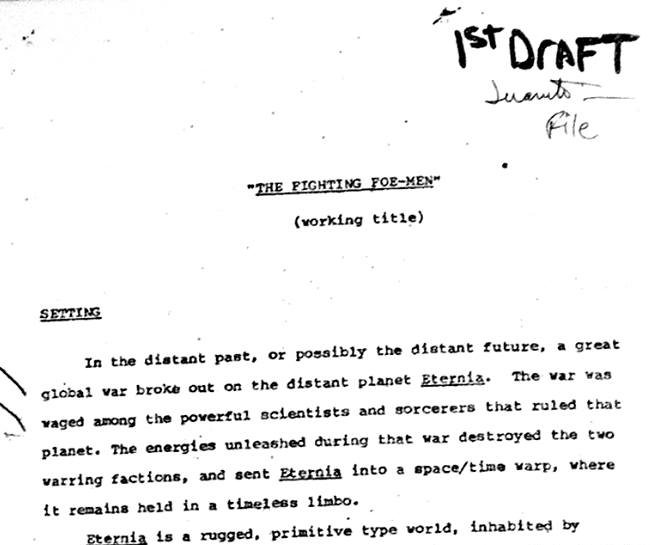 One of several copies of The Fighting Foe-Men script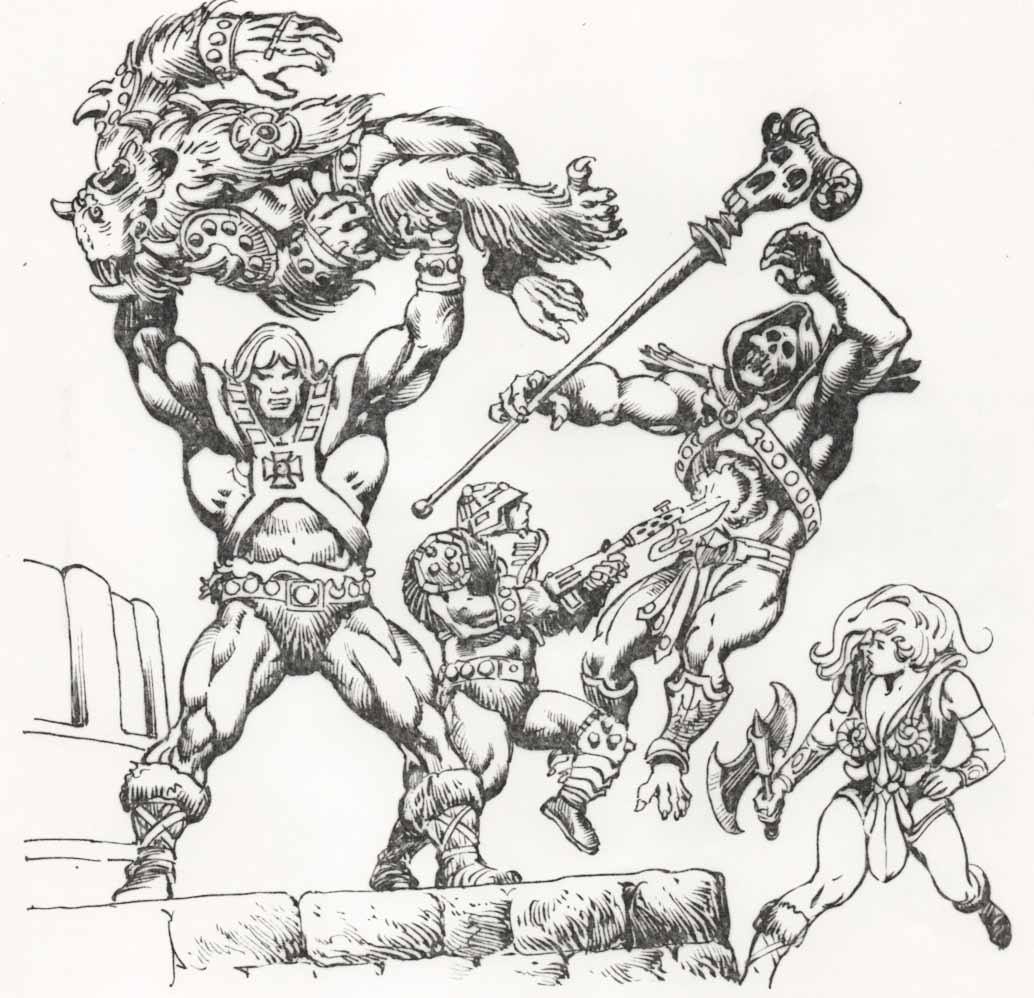 Early minicomic art by Alfredo Alcala, depicting Man-At-Arms with an early weapon from a previous piece of concept art. Image source: Power of Grayskull documentary. Image courtesy of Jukka Issakainen.
It's fairly well known by now that early on, Masters of the Universe had a number of working names. One of them was Lords of Power, a topic I've covered previously. Another was The Fighting Foe-Men, which will be the topic of this article.
Former Masters of the Universe Classics brand manager Scott Neitlich shared a number of early MOTU documents his his retrospective video below on the rollout of the Classics toyline. I'd like to discuss those documents relevant to the Fighting Foe-Men idea:
Don Glut, under contract from Mattel, wrote a story treatment for the line, apparently with the idea of turning the treatment into the mini comic books to be included with the figures. The Fighting Foe-Men document includes many working figure titles and a few ideas I recognize from my conversations with MOTU designer Mark Taylor, so Glut may have just taken whatever the Mattel team had at the time and expanded it out into a first attempt at a MOTU mythos:
SETTING
In the distant past, or possibly the distant future, a great global war broke out on the distant planet Eternia. The war was waged among the powerful scientists and sorcerers that ruled that planet. The energies unleashed during that war destroyed the two warring factions, and sent Eternia into a space/time warp, where it remains held in a timeless limbo.
Eternia is a rugged, primitive type world, inhabited by various warlike races. Occasionally other beings from distant worlds are cast into the time warp to take refuge on Eternia. The planet's surface is a savage world of dense jungles, dark forests, active volcanoes, etc. The seas are turbulent and infested with bizarre formes of marine life. The skies are dominated by all manners of strange flying creatures. What little remains of Eternia's past science has been channeled into various weapons of war — weapons appearing both primitive and yet strangely futuristic.
The idea of a post-apocalyptic Eternia is one of Mark's ideas, so this may have been communicated to Glut.
Among the remnants of the pre-war days of Eternia is the ominous and awesome Castle Grayskull. The Castle is so ancient that none of Eternia's inhabitants knows who (or what) built it. What is known is that the Castle is equipped with all manners of weapons, traps and devices. The place is a veritable fortress. Legend has it that the Castle harbors, in some secret place, the mysterious Power Gem — the product of both pre-war science and sorcery. The Power Gem will make its possessor all-powerful and the master of all Eternia. Naturally, then, Castle Grayskull and the Power Gem are coveted items and the reason for much conflict on Eternia.
I hadn't seen this "Power Gem" concept before. Obviously it was dropped, and perhaps was the inspiration behind the Power Sword.
Skeletor talks about the Power Sword in He-Man and the Power Sword, written by Don Glut, illustrated by Alfredo Alcala
Castle Grayskull concept, by Mark Taylor
HEROES
Among the various characters living on Eternia are four strange beings that we can consider heroes. They are:
He-Man — A native of Eternia, raised by his jungle-dwelling tribe. He is a mass of muscle, with incredible physical strength and a short-fuse-temper. His prowess got him awarded, by the tribe's elders, a series of fantastic weapons and costumes which they had found in the ruins of a fortress once occupied by Eternia's pre-war scientists. The costumes augment his strength, each one giving him a single new power — a forcefield, the increased strength of a Hercules, etc. He-Man loves his people, but he craves excitement and adventure, and so has set off on his own. He does not always fight fair and often resorts to underhanded methods to get the job done.
The costumes that give He-Man different abilities are familiar from the first minicomic, but the characterization of He-Man as someone who is a short-tempered lout who doesn't fight fair is something that was obviously abandoned quickly.
He-Man concept art, by Mark Taylor
He-Man's forcefield garment, as mentioned in the Glut's Fighting Foe-Men treatment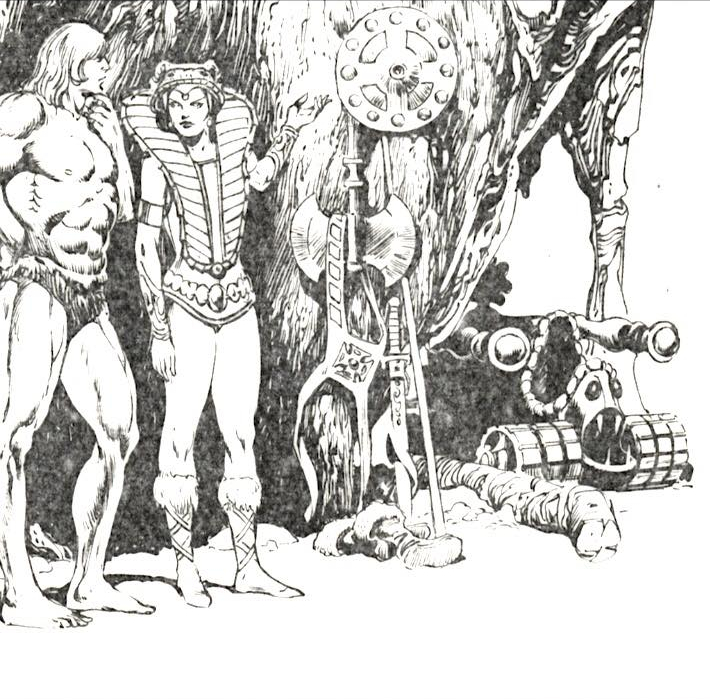 Early minicomic art by Alfredo Alcala, depicting He-Man and the Sorceress with an early concept vehicle, the Battle Catapult. Image source: Power of Grayskull documentary. Image courtesy of Jukka Issakainen.
Battle Catapult concept by Mark Taylor
Early minicomic art by Alfredo Alcala, depicting He-Man and the Sorceress battling a monster. Image source: Power of Grayskull documentary. Image courtesy of Jukka Issakainen.
MAN-OF-ARMS (alternate names: Arms-Man, Knight-Man, War-Man) — A cold, calculating and totally confident Master of All Weapons. He was trained since childhood by his people in the arts of battle, and is master of such weapons as the laser-axe, the electro-sword and any others that come his way. Unlike He-Man, he is a planner and never plunges into battle without ample preparation. He has left his people to right wrongs wherever he finds them, but knows that, if necessary, he can summon his people to his side as an army.
This depiction of "Man-Of-Arms" (Man-At-Arms) seems pretty close to Mark Taylor's own conception of the character, and seems at least compatible with his appearances in early minicomics.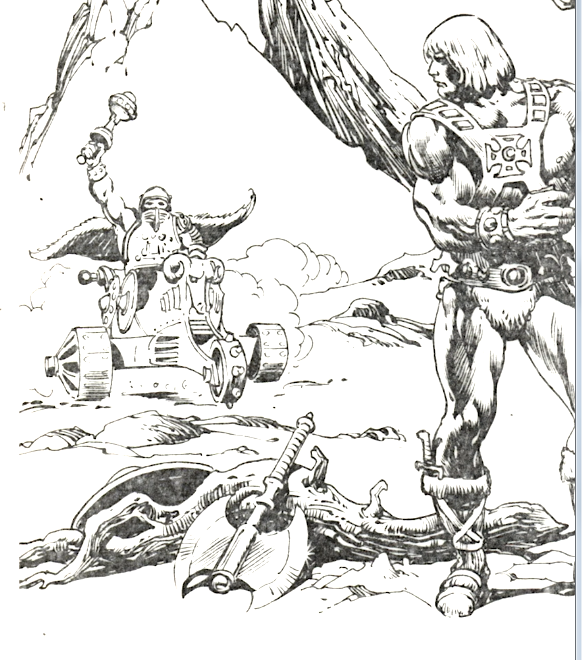 Early minicomic art by Alfredo Alcala, depicting Man-At-Arms in a concept vehicle design by Mark Taylor. Image source: Power of Grayskull documentary. Image courtesy of Jukka Issakainen.
Concept vehicle by Mark Taylor. Image source: The Power and the Honor Foundation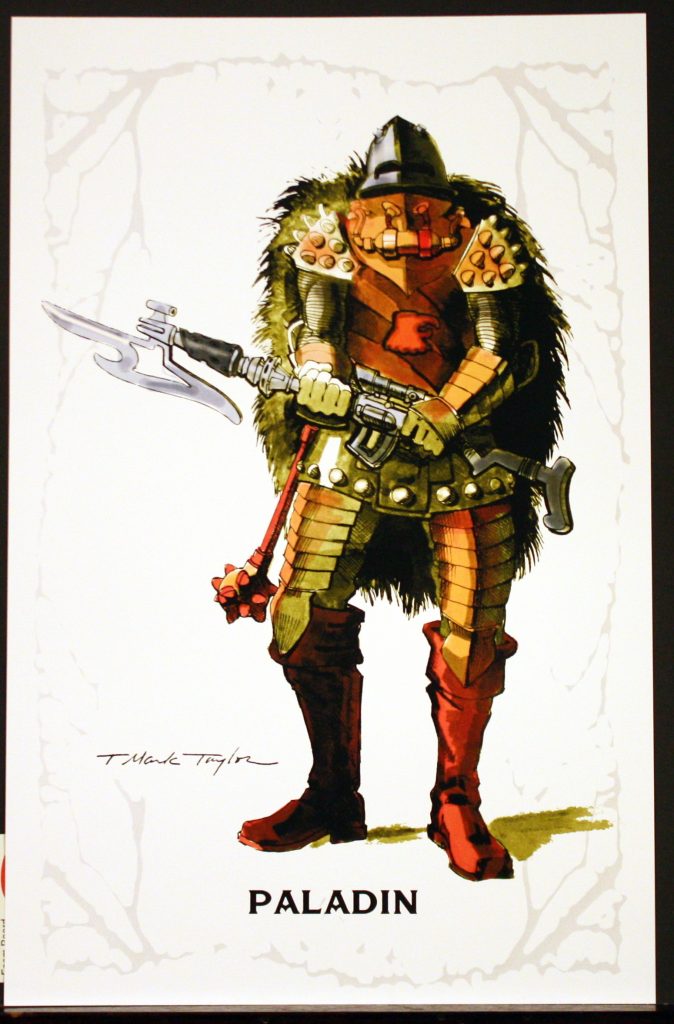 An early concept that became Man-At-Arms. From Mark Taylor Sketches Vol 1
WING-MAN (alternative name: Air-Man) — One of the last of a race of mountain-dwelling beings who have mastered the air. Wing-Man is a denizen of mountain peaks hidden high above Eternia's clouds. He utilizes a flying craft equipped with various weapons resembling characters of flying creatures — a deafening bird's cry siren, a hornet's sting, etc. But he can fly without use of the craft, thanks to a set of foldable wings — including a set of bird's wings, bat's wings, insect's wing, etc. He has a good sense of humor and is a natural practical joker, which makes him bearly [sic] tolerable to such brooding characters as He-Man.
Wing-Man or Stratos sounds pretty similar to his minicomic depiction, until you get to the description of his various wings. I'm not sure if that was ever in the works at Mattel or if that's something Glut came up with on his own.
Stratos concept. Image courtesy of Rebecca Salari Taylor
MER-MAN (alternative name: Sea-Man) — The last survivor of an extraterrestrial race of water-dwellers. When his water-world was drawn into its sun by the force of gravity and evaporated, Mer-Man — a scaly humanoid with fishlike gills and fins — escaped to Eternia and took residence in its seas. There this intelligent being took command of the sea's creatures. He can exist on land, where his strength, accustomed to the pressures of the sea's depths, is increased — but extreme heat can dehydrate him, weakening and eventually killing him.
I had heard something like this characterization for Mer-Man before, but hadn't seen evidence to support it until now. Mer-Man's susceptibility to dehydration is familiar from the comics, but otherwise his backstory and heroic characterization is totally unlike anything seen in MOTU canon.
Mer-Man as a hero was also something that shows up in a figure sheet included in one of the extra scenes in the excellent Power of Grayskull documentary: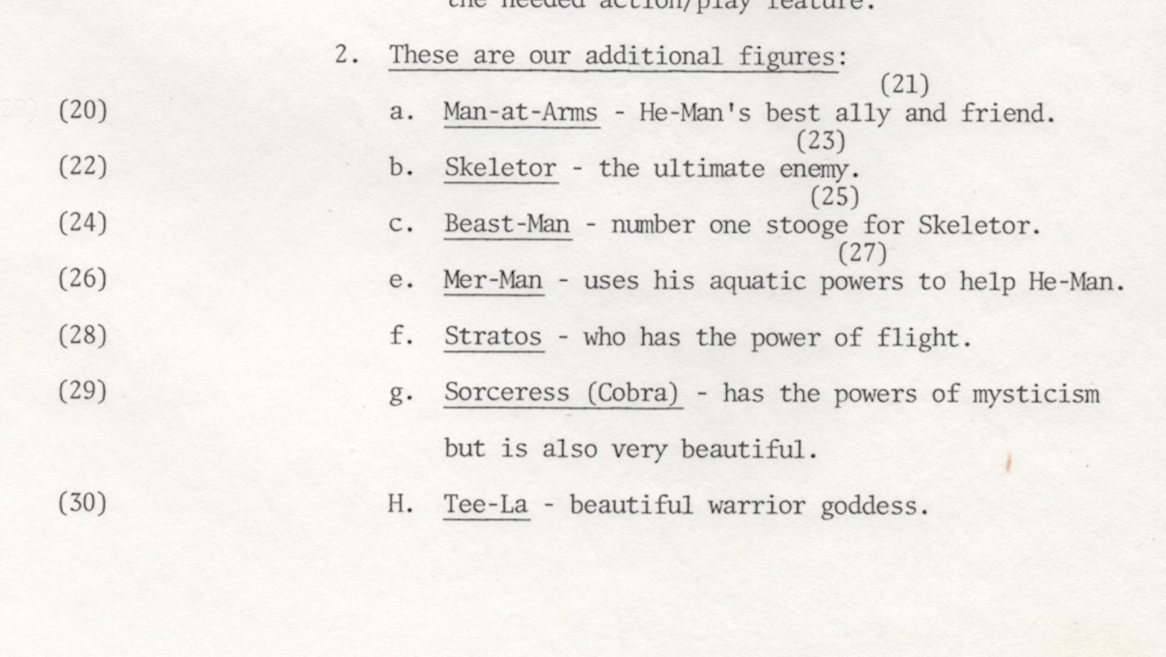 Image courtesy of Jukka Issakainen
Mer-Man getting dehydrated in the heat of Skeletor's blade
Image source: The 2016 Mark Taylor B-Sheet Collection . Scan by Axel Gimenéz
VILLAINS
Each of the villains is out for his own gain, usually to obtain the Power Gem for himself, but they occasionally accept one of them as their leader — Beast-Man
BEAST-MAN — Another native of Eternia's jungles whose tribe — or pack — has seemingly always been at war with their natural enemies, the human tribe of He-Man. Beast-Man has formidable strength, but it is his ferocity that makes him a natural leader. He has the agility of a gorilla. But when he dons his various costumes, he takes on the powers of other animals — the speed of a gazelle, the charging force of a rhino, etc. Beast-Man, though he despises He-Man's tribe, yearns to take one or more of its females as a bride. He is totally evil and corrupt. His only redeeming quality is the "love" he bears for his own race, though it is actually more like instinct than any real emotion. His voice is gutteral, almost a growl.
This is a quite surprising casting of Beast Man as the primary enemy of He-Man. I had heard that this was once the case, but had never seen actual evidence until now. In this treatment he is given parallel powers to He-Man, in that he gains different power from wearing different costumes.
Beast Man and Mer-Man prototypes. Image via Andy Youssi
Early Mark Taylor Beast Man concept art
DE-MAN — A regular demon in the flesh. De-Man once inhabited an alien dimension resembling Dante's version of Hell, but was thrown into Eternia's dimension when the great war created a rift between the two dimensions. De-Man is possibly Beast-Man's most dangerous ally. He has incredible powers and weapons, which can throw bolts of fire, electrical energy, cold. etc. He can control the very elements, bringing down a terrible storm from a cloudless sky, etc. He speaks in a raspy voice and is waiting for just the right opportunity to turn against Beast-Man and seize the Power Gem for himself. Then he will reopen the dimensional rift and bring more of his own race – to conquer eternia.
Some of De-Man's (Skeletor's) story here shows up in He-Man and the Power Sword (specifically the part about De-Man as a demon from another dimension). The control over the weather wasn't really explored. De-Man's obsession with the Power Gem became Skeletor's obsession with the Power Sword.
Mark Taylor's De-Man (Skeletor) concept art, published by Super7 and the Power and the Honor Foundation. Image courtesy of Axel Giménez.
Skeletor's origin story
WOODS-MAN (alternate names: Tree-Man, Green-Man) — Another naturally-born Eternian. The master of the Forests and Jungles, Woods-Man has the power to control all plant life. Being a manlike plant himself, Woods-Man does not have the ability to speak — but he does have a telepathic ability to communicate with others of his kind or other plants. His secret ambition is to subjugate all animal life and make Eternia's plants the rule or this planet.
At first glance Woods-Man reminds me of Moss-Man, who was released in 1985. However, this may have been referring to the Mark Taylor concept below:
From Mark Taylor Sketches Vol 2
KA-MAN (named for the crocodilian Caiman) — a humanoid reptile, not too smart, but incredible sinister and evil. Being reptilian, the scaly warrior is cold-blooded and susceptible to changes in temperature. When he speaks it is hardly more than a hiss. Like a lizard, he can scale walls, change his color to match his environment, look about in all directions with his globelike eyes, etc. His various costumes give him extra reptilian powers — the rattle and striking power of a snake, the fiery breath of a dragon, etc. Naturally his snakelike fangs are venomous. His small reptile's brain affords him little thinking ability and makes him extremely susceptible to taking orders.
It's hard to know for sure, but this Ka-Man character might be referring to this Mark Taylor concept:
From Mark Taylor Sketches Vol 2
After the characters are set up, Glut lays out a story synopsis for the first comic book in the series, one that sets up the heroes independent and squabbling warriors who must reluctantly form a team to stop the villains. He-Man's arrogance at first prevents them from working together, after the forces of Beast-Man bring them to the brink of destruction, they must unite in order to survive.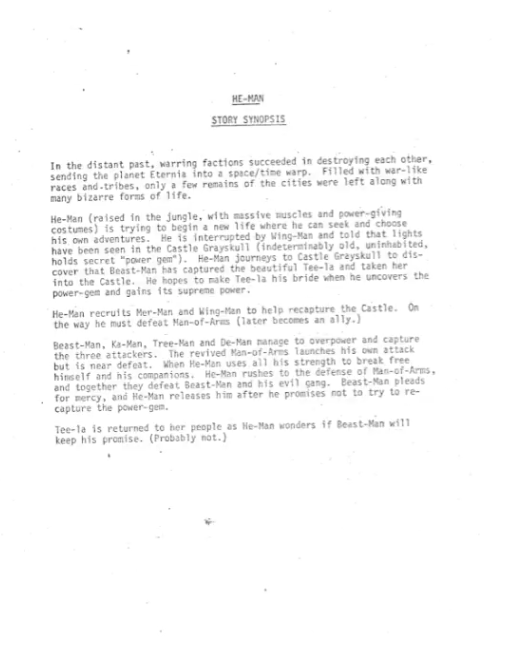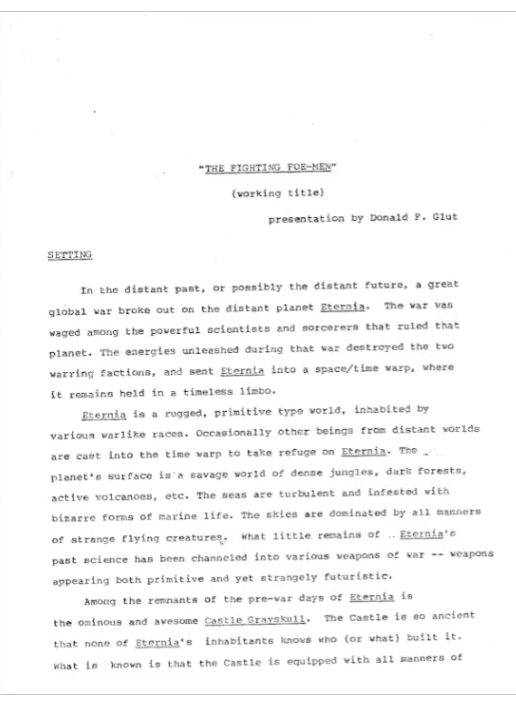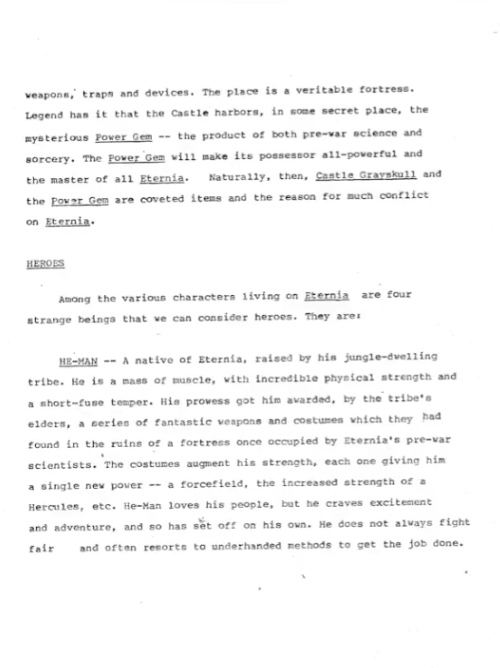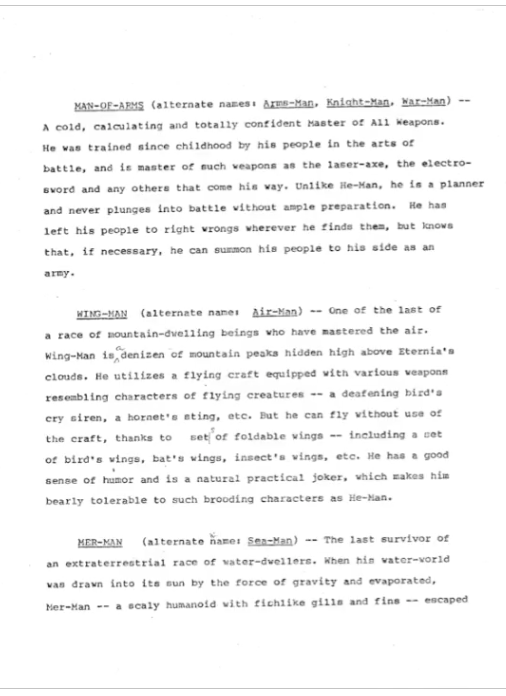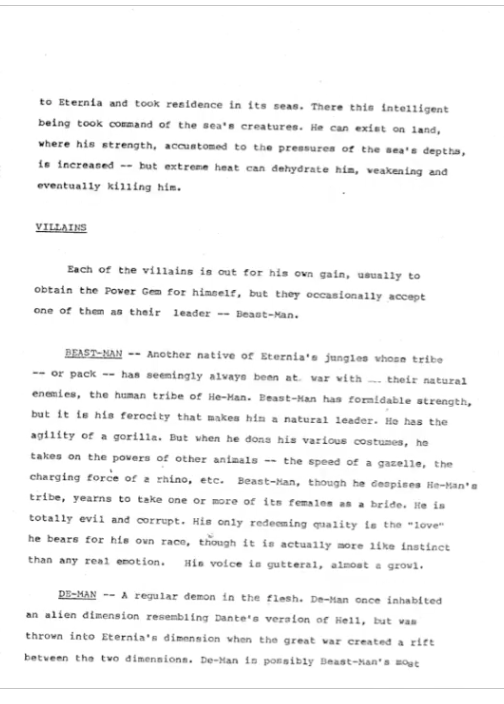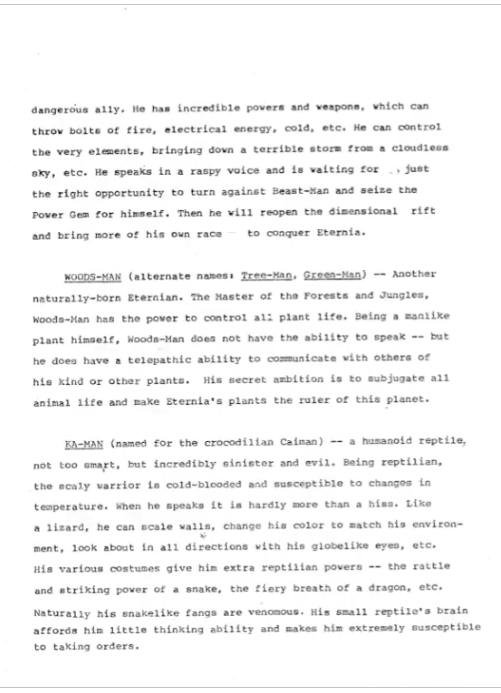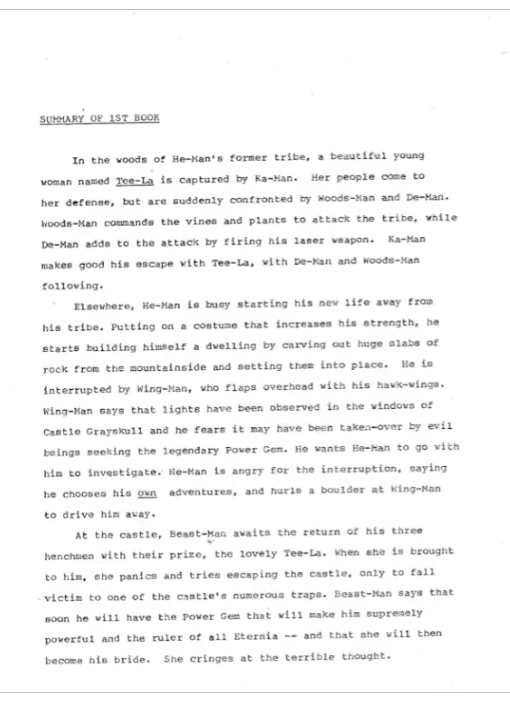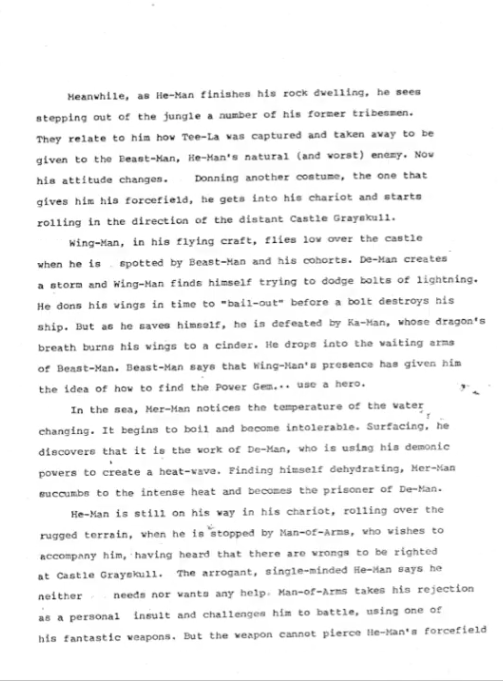 In the Fighting Foe-Men treatment, as in He-Man and the Power Sword, He-Man makes his home out of rocks.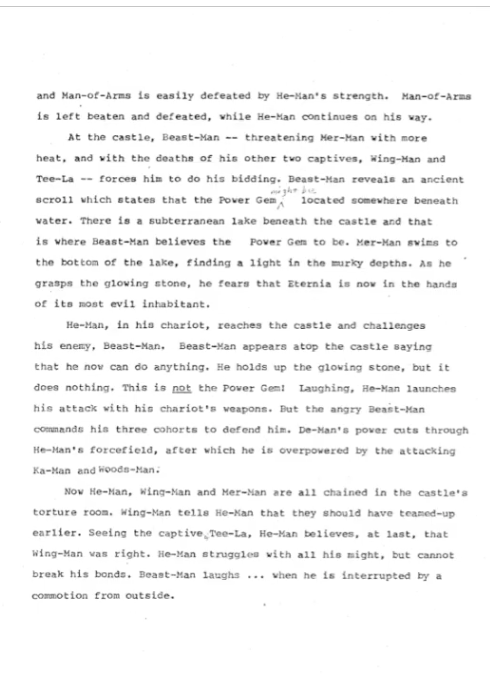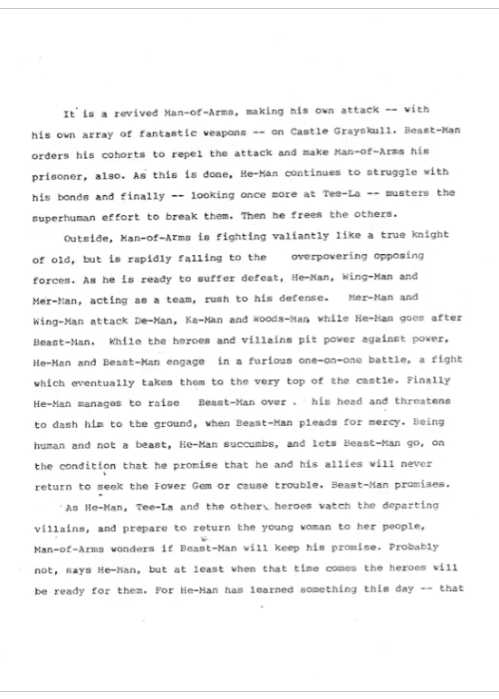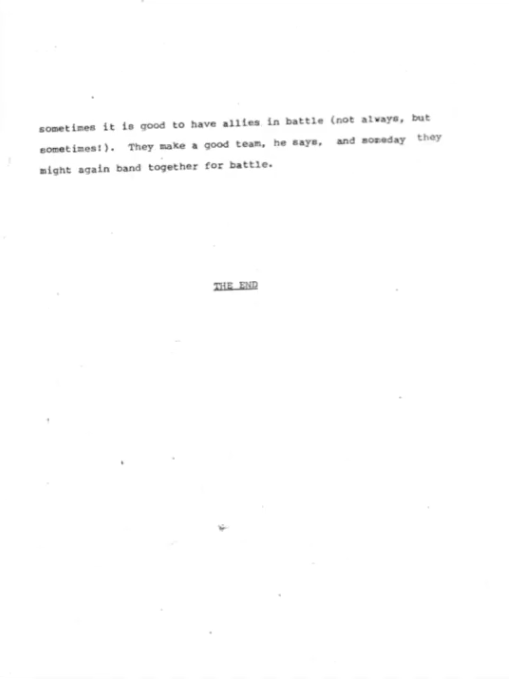 Included among the documents is what looks like feedback from Mattel for some changes to the story. Those changes include making Grayskull more mysterious and emphasizing that it holds the secrets of the universe. Mattel also wanted to make De-Man (Skeletor) the primary villain. He-Man was to be made more heroic and less arrogant and underhanded; he was also supposed to get along with the other heroes. In this feedback, Tee-La (Teela) was to be written out of this particular story. That last edit obviously didn't take, as Teela features prominently in the minicomics written by Glut.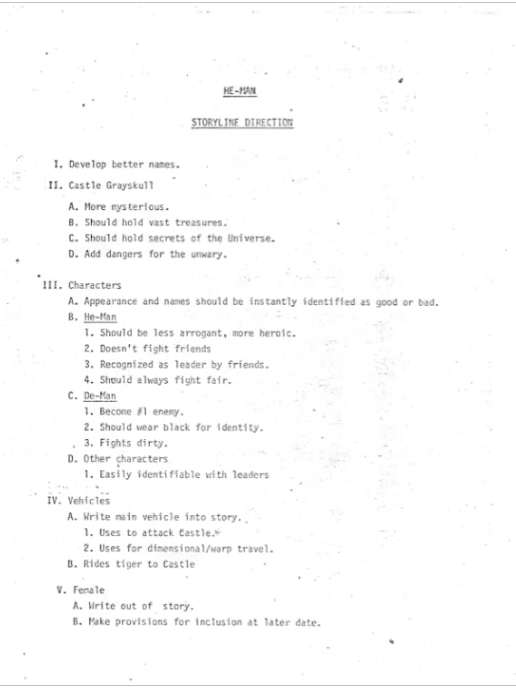 "Tee-La" attacks "Beastman" in the first MOTU minicomic, He-Man and the Power Sword
Return to Table of Contents.