I've mentioned this briefly before in the blog, but I thought this topic deserved its own post. It's well known that early on in the development of the Masters of the Universe line, allegiances of certain characters were in flux. One of the most dramatic examples of that is Zodac, who is at times presented as heroic, neutral and evil in official Masters packaging, comics and cartoons. I go over that in depth in my post about Zodac. The history of Stratos and Mer-Man is actually similar, but the details are a bit murkier.
The very earliest surviving characterizations of Mer-Man peg him as a Heroic Warrior. In an early draft by Don Glut for what would eventually become the first minicomics (using the title "Fighting Foe Men" as the name of the line), Mer-Man is listed among the Heroic Warriors and is given this backstory:
MER-MAN (alternative name: Sea-Man) — The last survivor of an extraterrestrial race of water-dwellers. When his water-world was drawn into its sun by the force of gravity and evaporated, Mer-Man — a scaly humanoid with fishlike gills and fins — escaped to Eternia and took residence in its seas. There this intelligent being took command of the sea's creatures. He can exist on land, where his strength, accustomed to the pressures of the sea's depths, is increased — but extreme heat can dehydrate him, weakening and eventually killing him.

Don Glut
The same story also groups Stratos (who was called Wing Man at the time) with the Heroic Warriors:
WING-MAN (alternative name: Air-Man) — One of the last of a race of mountain-dwelling beings who have mastered the air. Wing-Man is a denizen of mountain peaks hidden high above Eternia's clouds. He utilizes a flying craft equipped with various weapons resembling characters of flying creatures — a deafening bird's cry siren, a hornet's sting, etc. But he can fly without use of the craft, thanks to a set of foldable wings — including a set of bird's wings, bat's wings, insect's wing, etc. He has a good sense of humor and is a natural practical joker, which makes him bearly [sic] tolerable to such brooding characters as He-Man.

Don Glut
An early internal Mattel document, as seen in The Power of Grayskull documentary, explicitly affiliates Mer-Man with He-Man, but is non-committal about Stratos.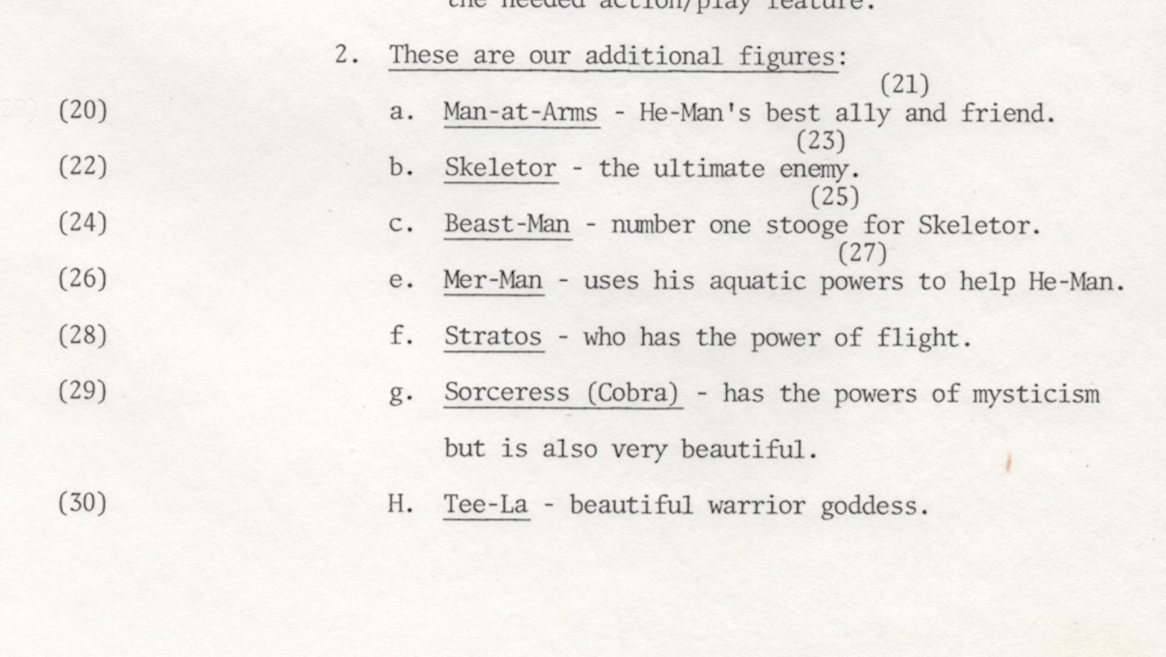 In a series of early promotional slides intended to generate buzz about the new line (called "Lords of Power" at the time), Mer-Man is grouped with the Heroic Warriors. Skeletor and Beast Man seem to be the only Evil Warriors here.
Even in Mattel's 1982 dealer catalog, the only figures explicitly called out as evil are Skeletor and Beast Man. Stratos, Mer-Man and Zodac at this point seem to be in a category apart from either the Heroic or Evil Warriors. Perhaps the idea was to leave it ambiguous and let kids decide how to use them.
At around the same time, Mattel put out a kit for manufacturers of licensed products, intending to direct them how to use the Masters of the Universe brand in their products. In here we see Stratos as a villain. Mer-Man is given no specific allegiance.
The minicomics that came with the first figures always characterize Mer-Man as evil. From that point on Mer-Man is solidly in the Evil Warriors camp. However in Stratos' first appearance in the comics, he is shown with the Evil Warriors. Thereafter he is always grouped with the heroes.
In a 1982 JCPenney catalog, Stratos and Beast Man are listed together as a set, described as "Winged sky baron, and his savage henchman." JCPenney sold many unique figure two-packs, although I've never seen any other evidence of this particular set, or the Man-At-Arms/Zodac set either. You can browse these gift sets here.
In the first Mattel Masters of the Universe France catalog, we see a description of Beast Man that indicates he is a "companion" of Stratos.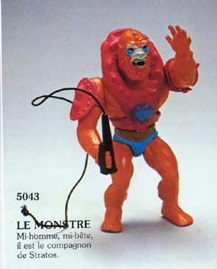 Stratos himself is described as half-man, half ape, and very strong: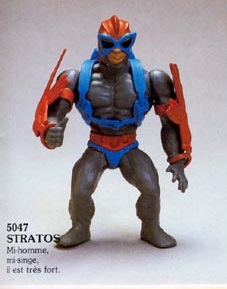 Mer-Man, meanwhile, is described as the companion of He-Man: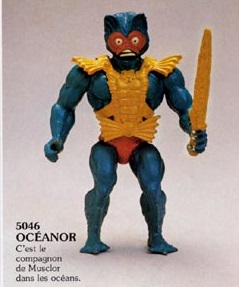 Finally, we see in 1983 and beyond an attempt to further solidify the two factions in Masters of the Universe. To that end, Mer-Man is given the title "Evil ocean warlord" rather than his original "Ocean warlord," and Stratos is called "Heroic winged warrior rather than his original "Winged warrior":