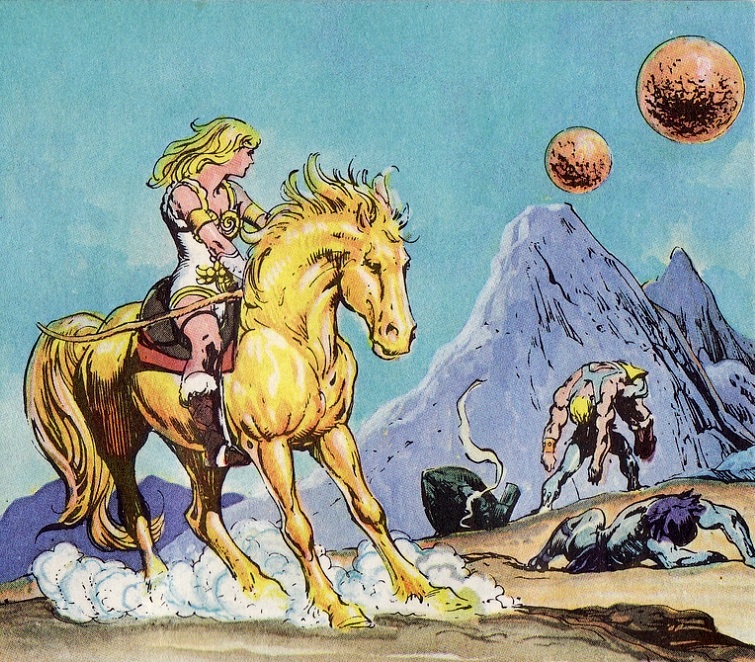 In some of the earliest media produced for Masters of the Universe, Teela is often depicted riding a golden horse or unicorn. The animal is never given a name, but is referred to as a "unicorn charger". Fans have taken to calling the steed Charger for that reason.
Charger's origins may lie in a January 1, 1981 "He-Man Vehicles & Accessories" idea disclosure form filed by Roger Sweet. In the form, Roger writes:
The Barbie horse, fixed or poseable legs, can be adapted to He-Man by changed color and added parts of armor, etc to make a horse vehicle.
In fact, there was a Barbie horse named Dallas, released in 1980 or 1981, that bears close resemblance to Charger as depicted in the first series of mini comics.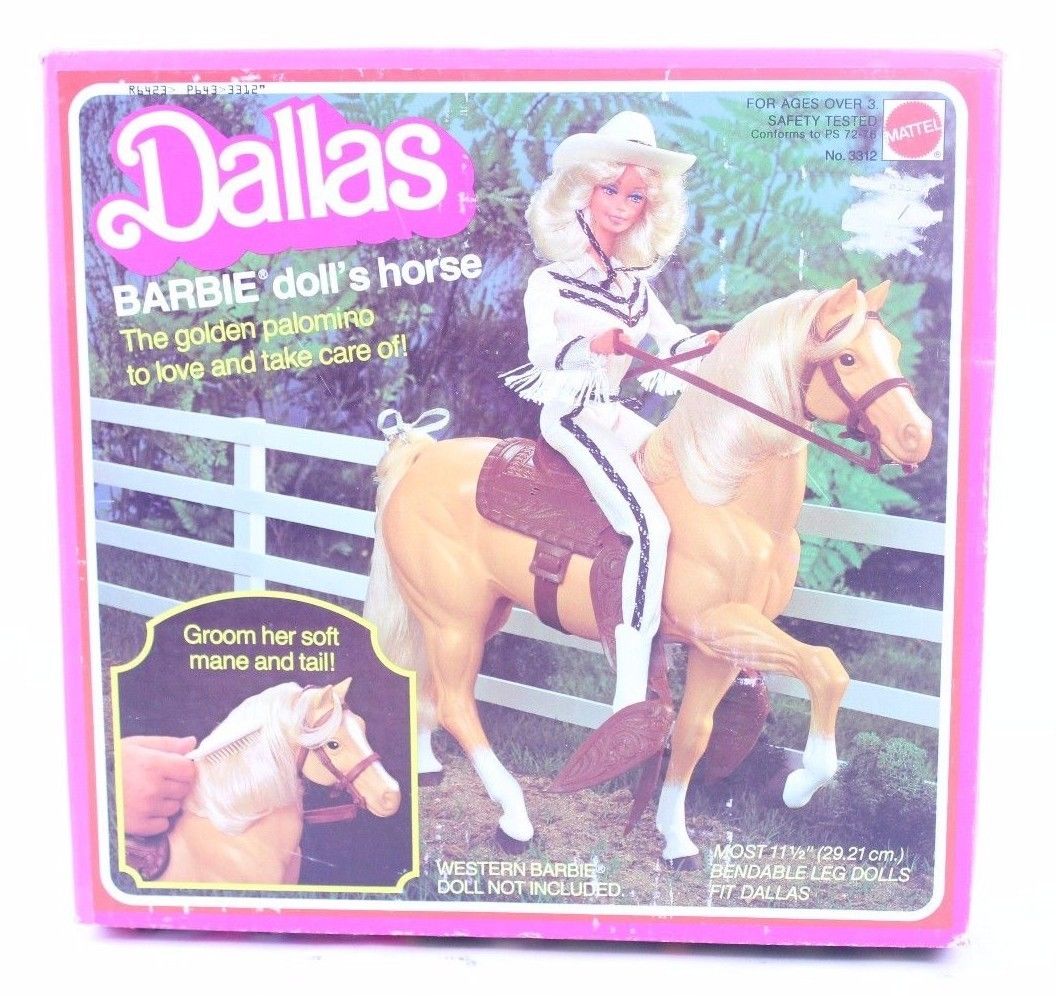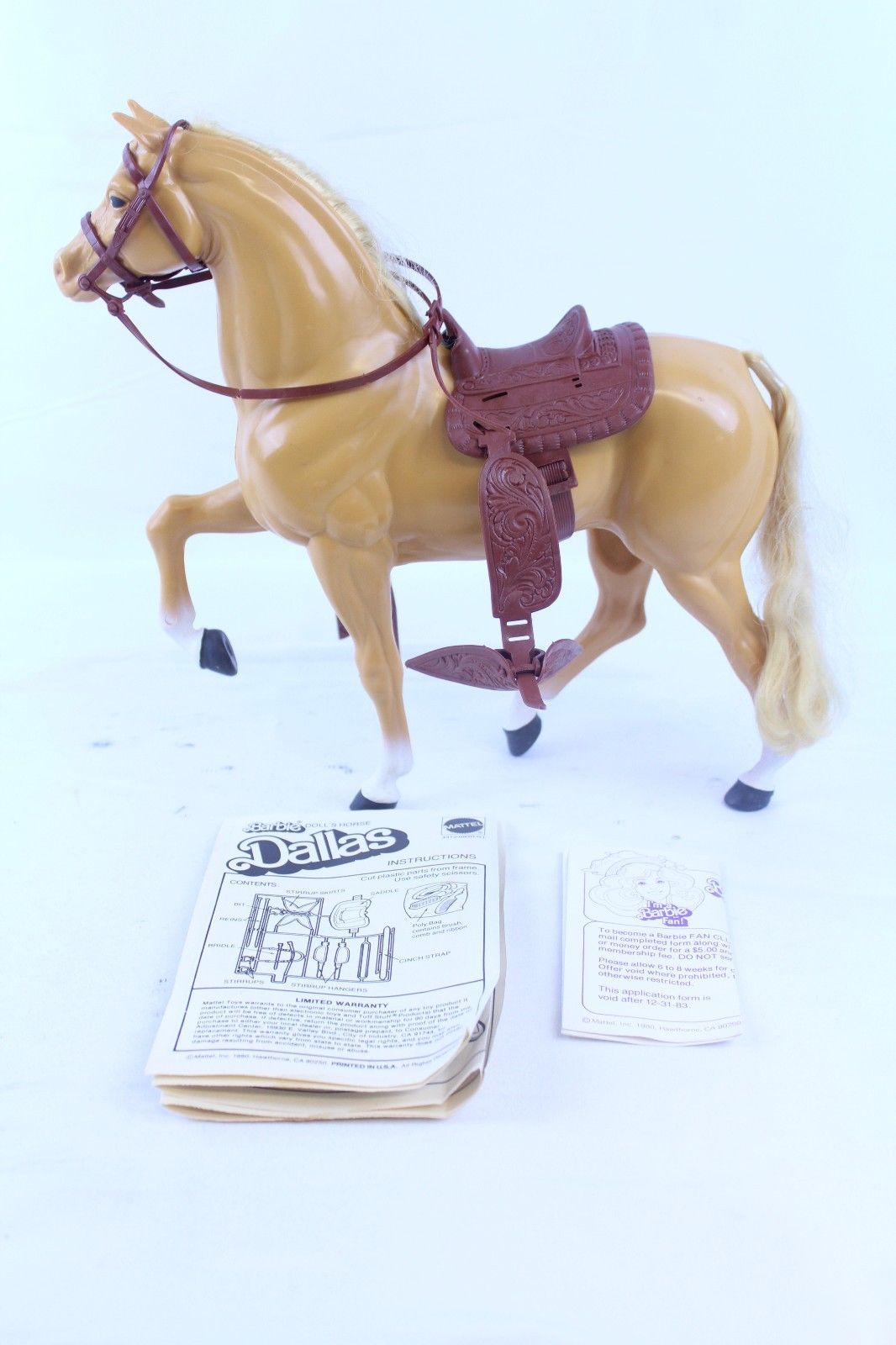 Several Masters of the Universe toys were reused from previous Mattel toylines, including Battle Cat, Panthor, Zoar and Screeech. Charger was never released in the vintage MOTU toyline, but I think he/she would have fit right in.
A concept drawing of a unicorn with a female rider was published in Tomart's Action Figure Digest issue 90. The artwork is cropped, and we're not given any information on the artist or the date. It's possible that this is related to Teela and Charger, but it very well could be an unrelated concept (possibly for She-Ra):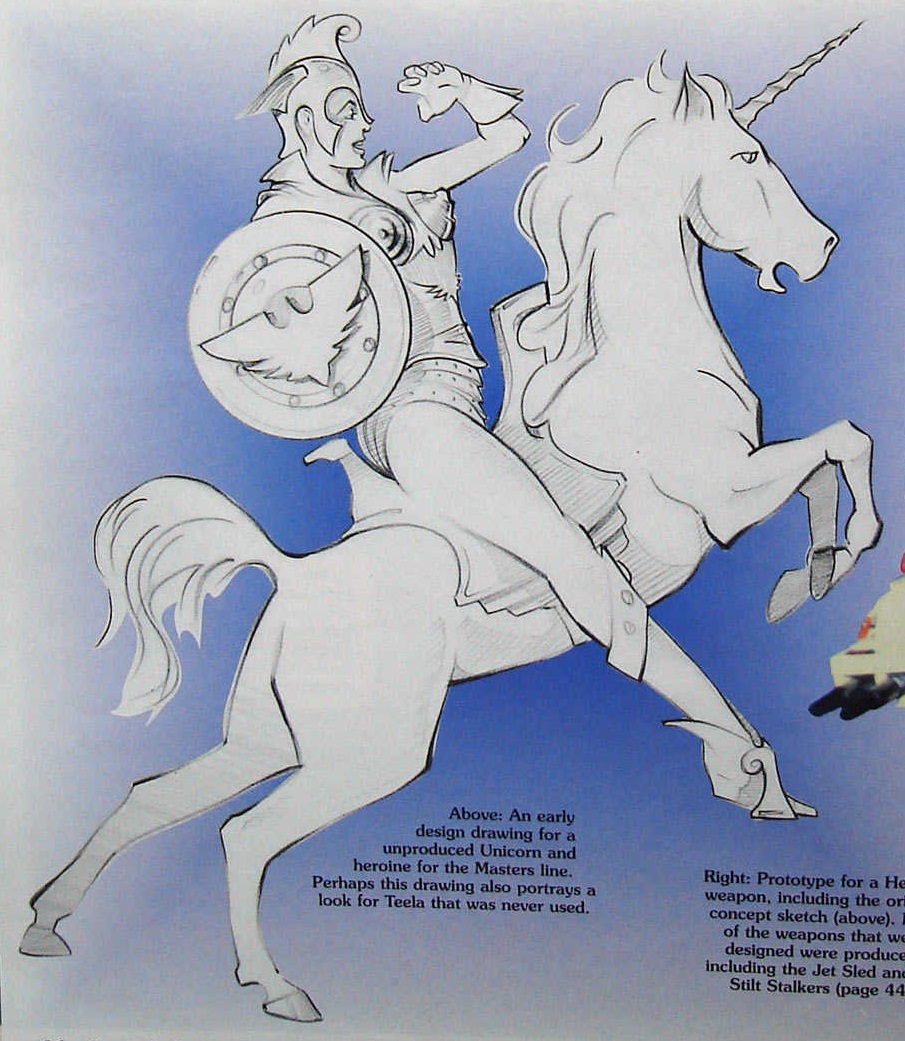 Charger appears as a unicorn in the first comic, He-Man and the Power Sword, illustrated by Alfredo Alcala. The mini comic was shipped with the first wave of 1982 figures, and was probably in production in late 1981: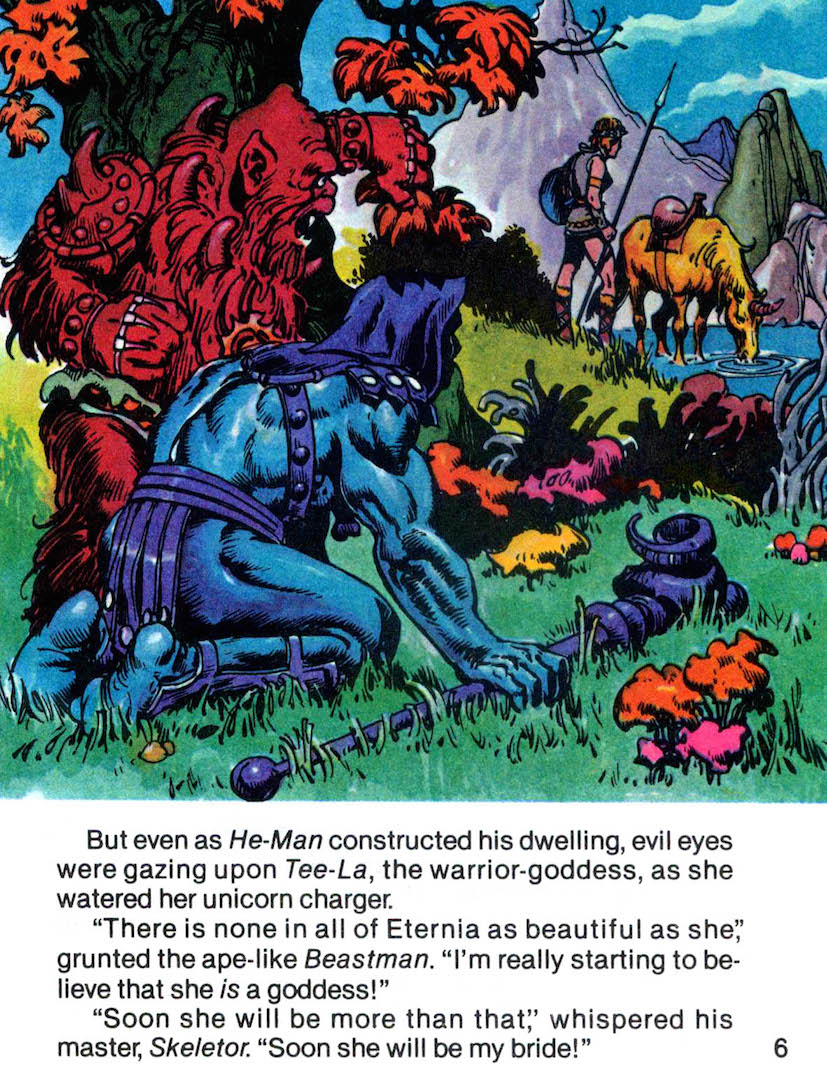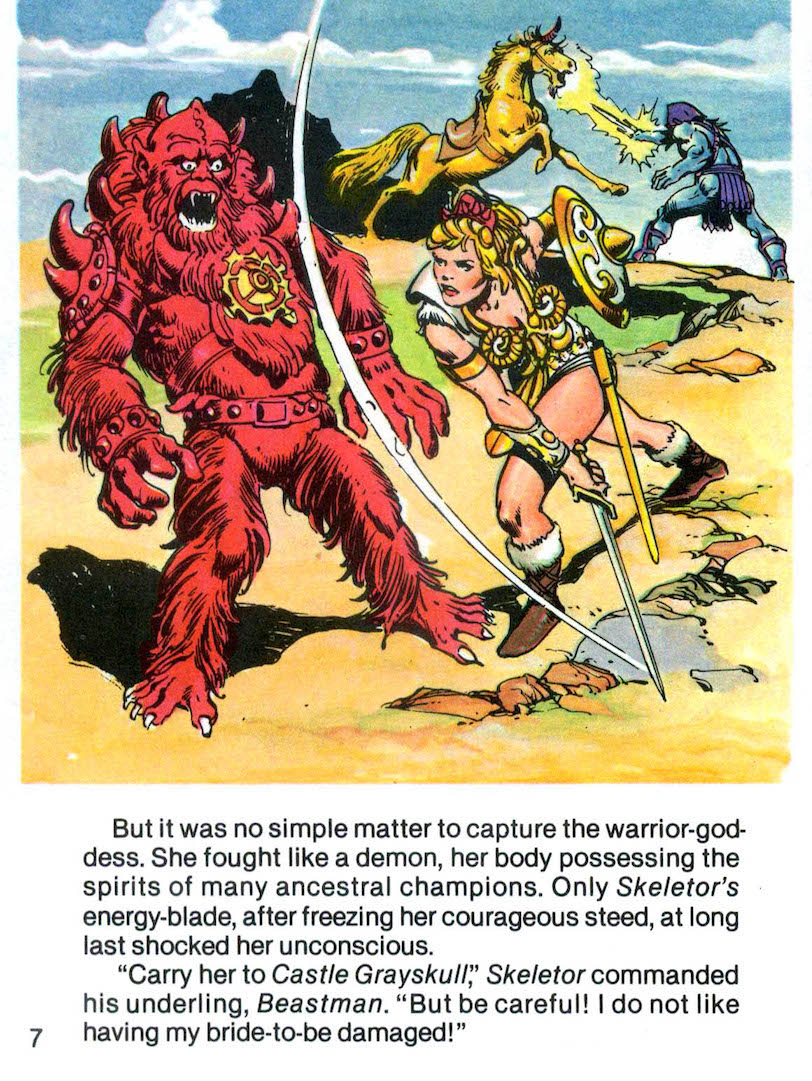 There is a similar scene on the cover of the Masters of the Universe Friends and Foes coloring book (cover by Fred Carillo), published in 1984: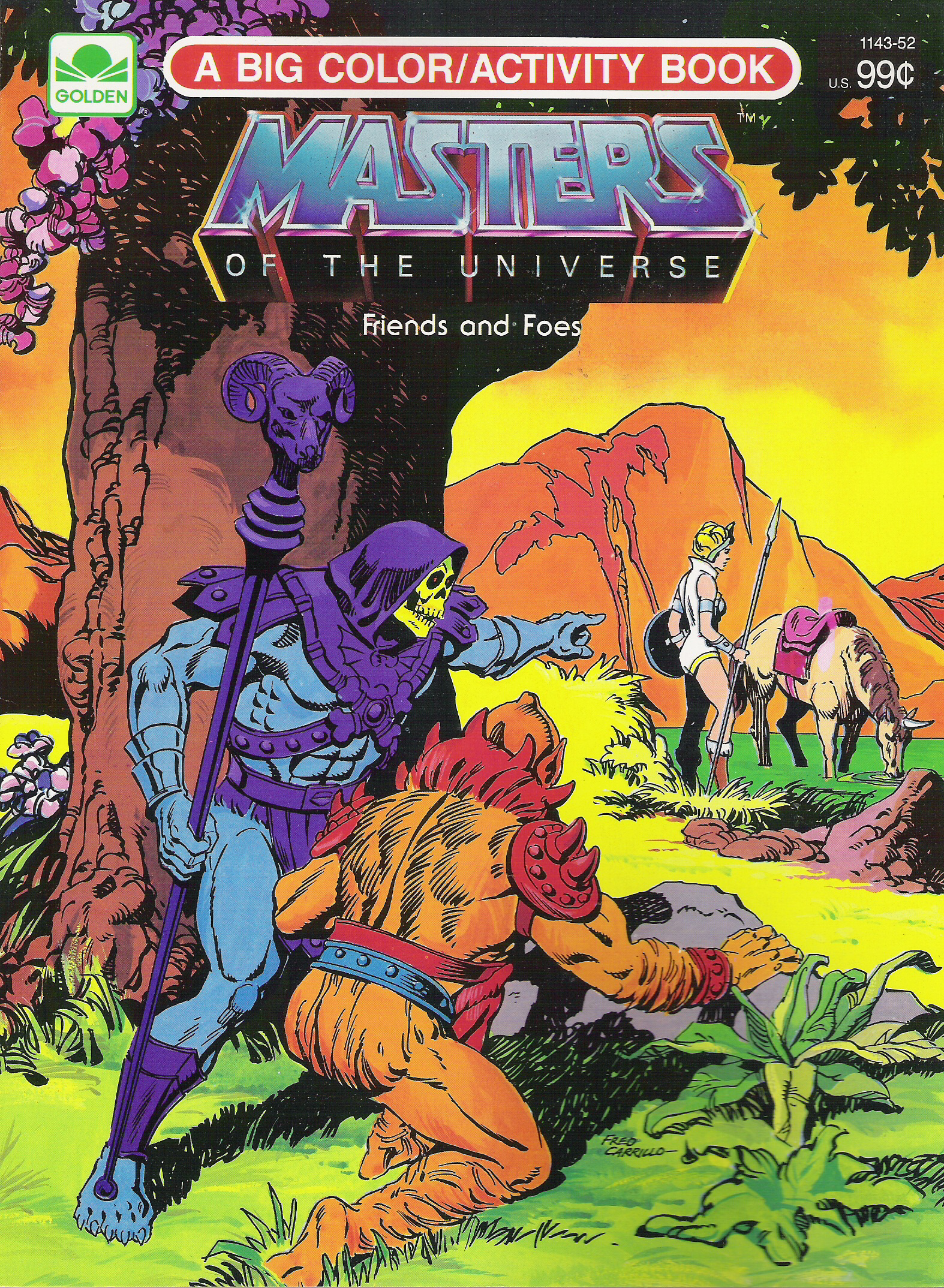 Charger appears as an ordinary horse in subsequent mini comics released in 1982, including Battle in the Clouds and The Vengeance of Skeletor. My speculation is that it would have been expensive to add a horn to the Dallas buck, so the concept was simplified to require no additional tooling. Of course it's possible that this is just a fluke and not a planned change to the design of Charger.
Advertisement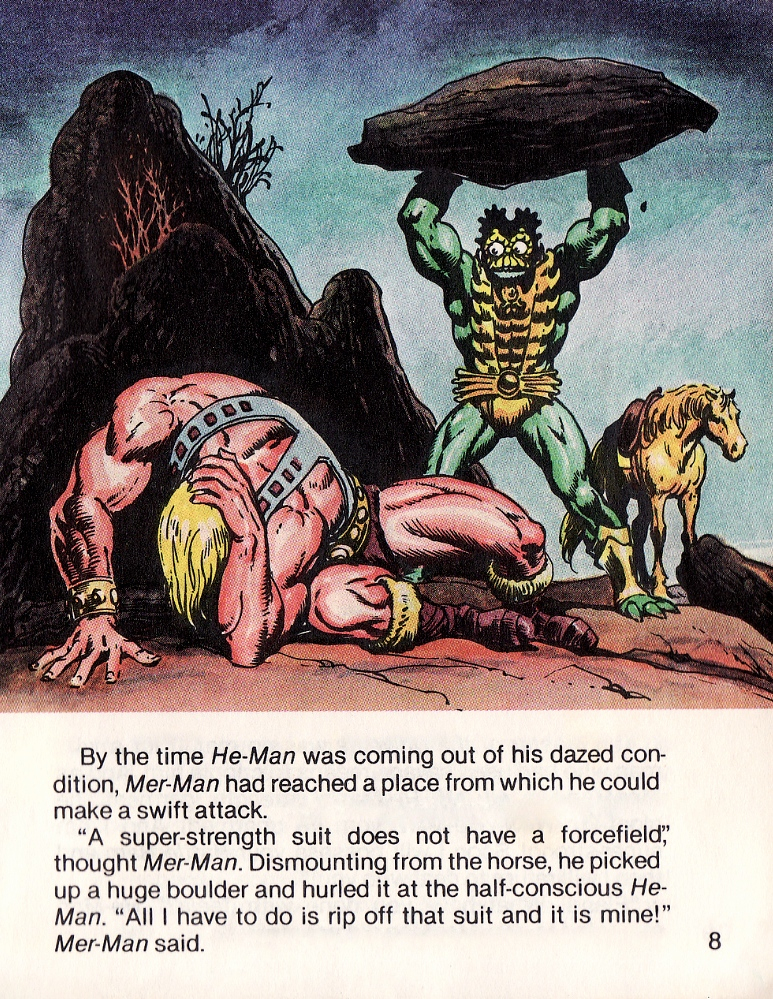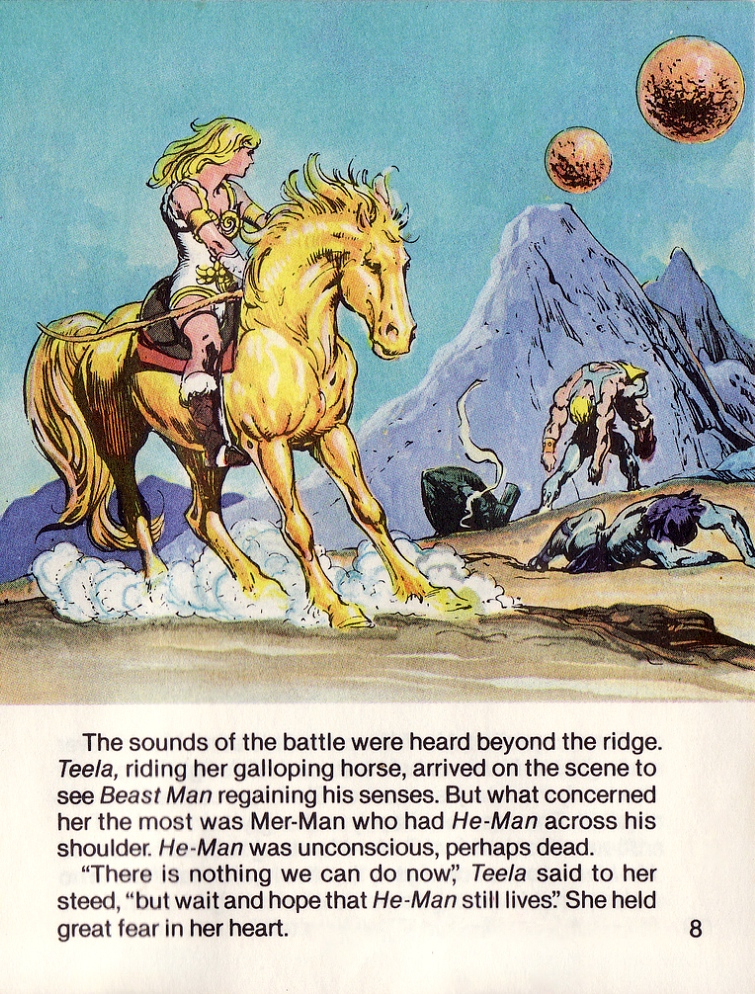 Charger appears a few more times in various forms. One of the most interesting is the Grenadier "Raid of He-Man" paint and play minifigures set. The set includes Teela seated on Charger (as a unicorn), along with Skeletor, He-Man, Ram Man, Stratos, Man-At-Arms, Zodac and the Castle Grayskull weapons rack (images via He-Man.org)
Something that looks like it might be Charger appears in a 1983 MOTU puzzle, illustrated by R.L. Allen: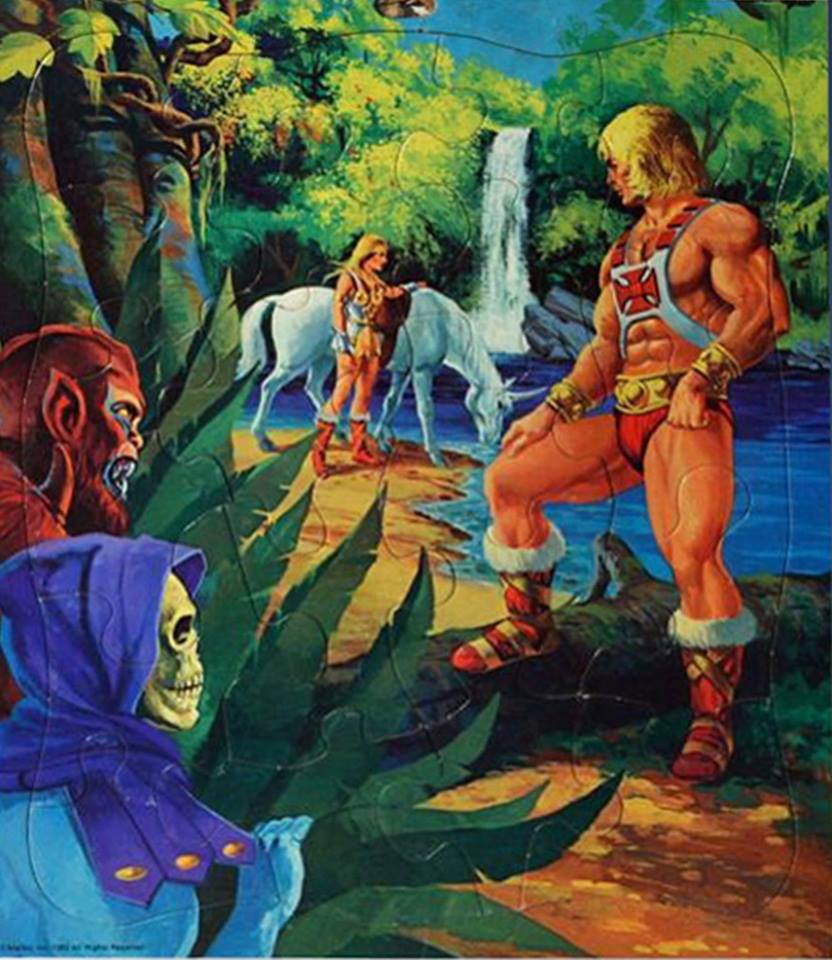 Charger appears in the 1983 Ladybird story, A Trap For He-Man, as well as in the 1984 story, Castle Grayskull Under Attack (images via He-Man.org):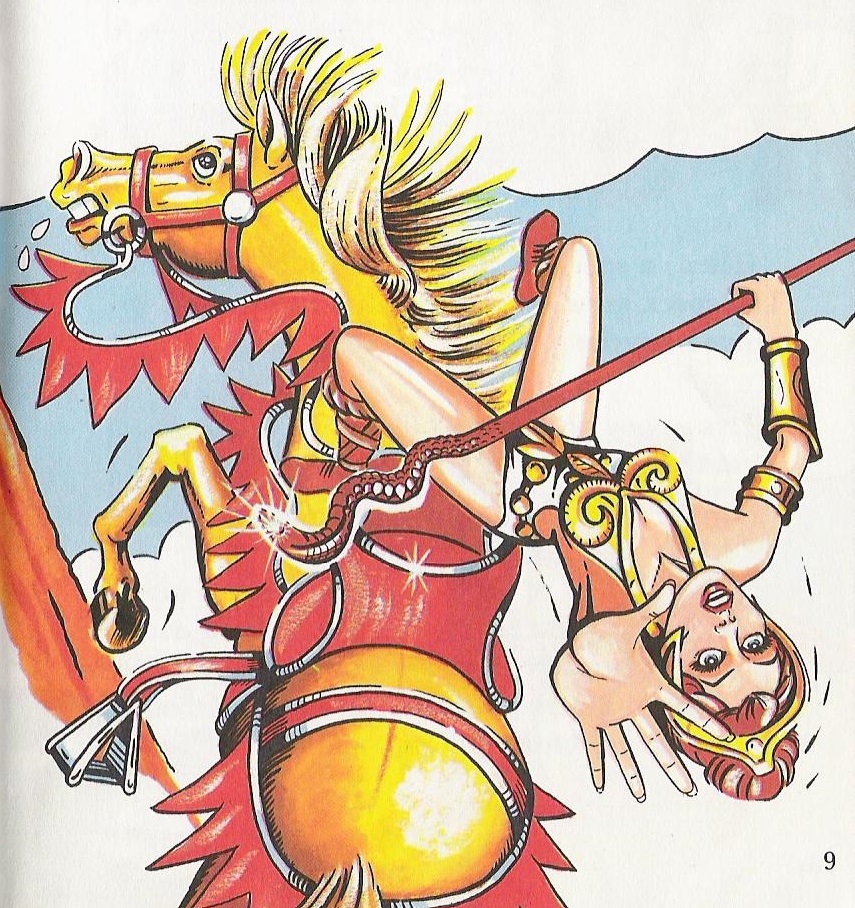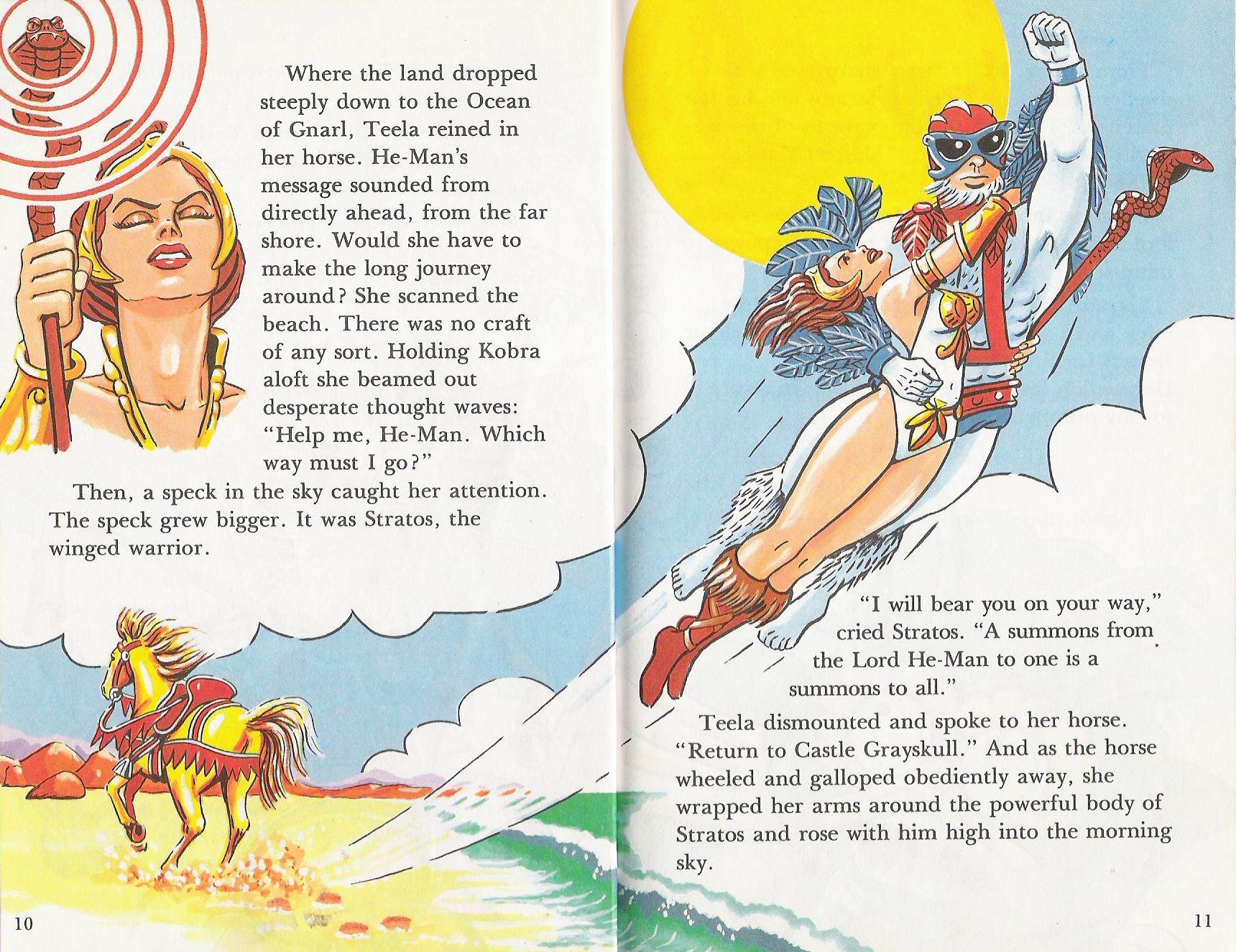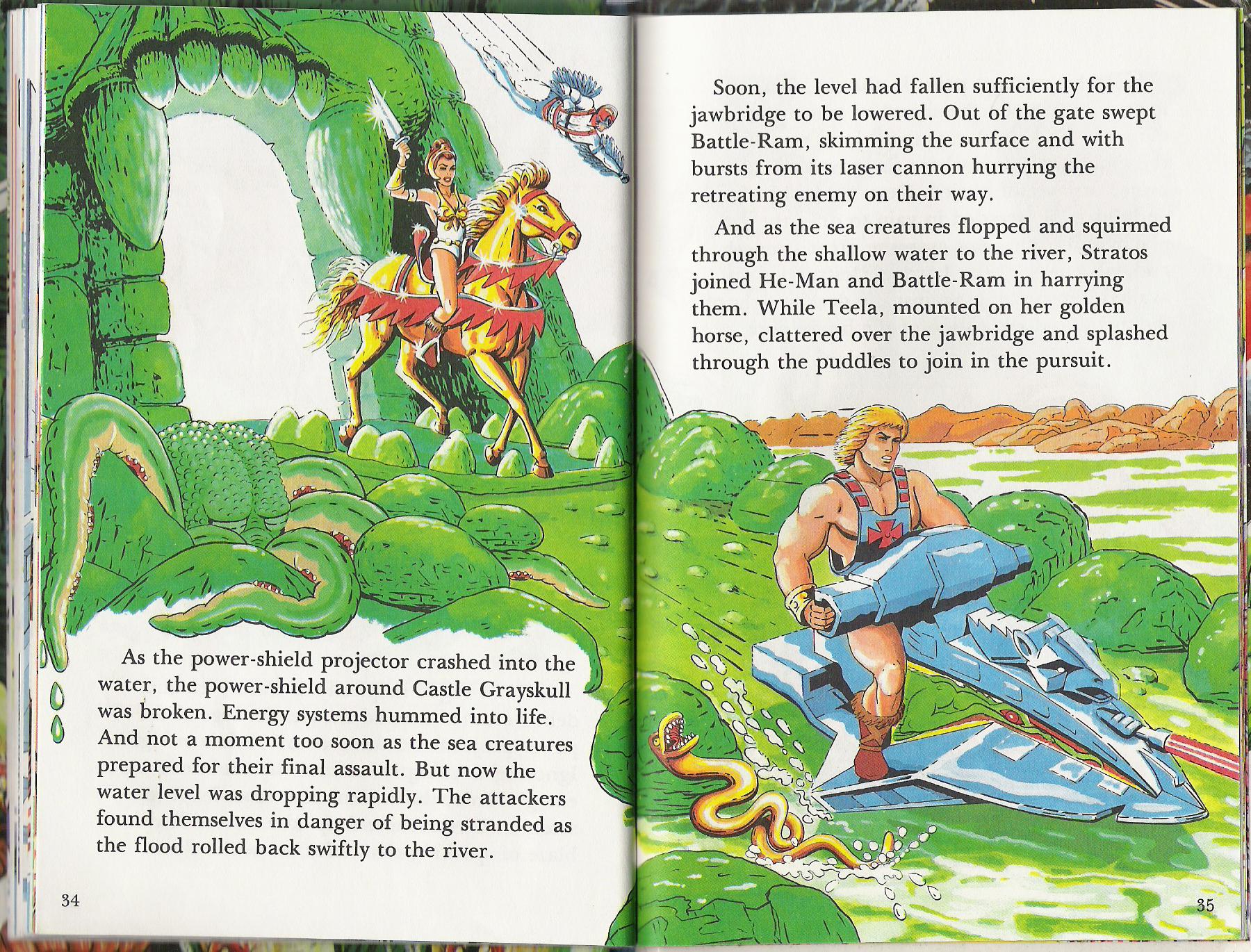 Charger makes an appearance in issue 43 of the Italian Piú comic book series: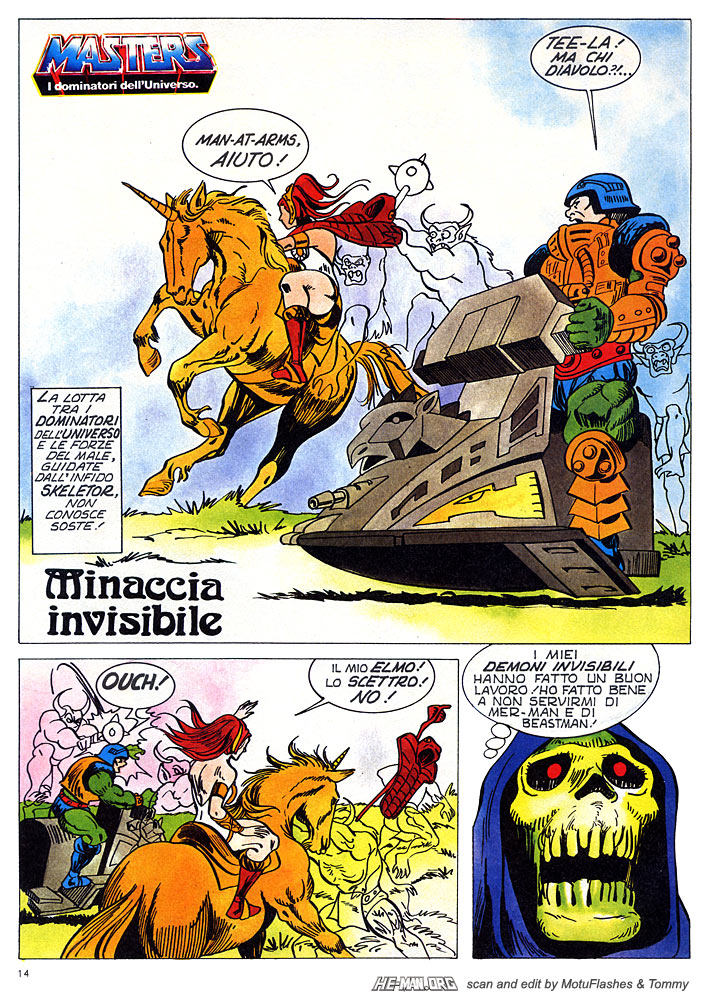 Charger also shows up in various sticker and coloring books released throughout the first few years of the toyline (hat tip to He-Man.org user Whiplash7):
Finally, Charger (this time with a white coat) makes an appearance in the 1984 German audio story, Höhle des Schreckens (thanks to the anonymous commenter below for the tip):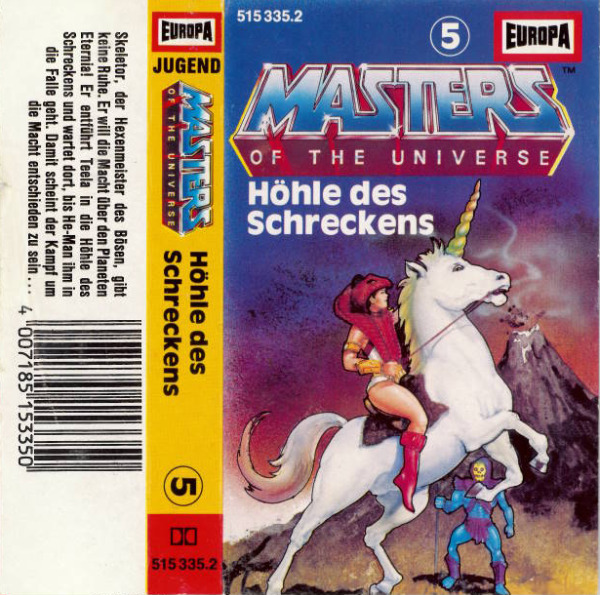 Return to Table of Contents.

Advertisement