Now that we are starting to see some close to final production samples for the unproduced Eldor and He-Ro figures being sold by Super7 (under license from Mattel), I'd love to share some thoughts I have about some possibilities for more figures like these in the future.
For those not aware, Eldor and He-Ro were planned for release in 1987 as part of the Powers of Grayskull line, a not-quite spinoff of the original MOTU line that included characters from Eternia's ancient past, such as Tyrantisaurus Rex, Bionatops, Tytus and Megator. A fair number of these POG toys were released in 1987 and 1988, but the two main protagonists, while featured in packaging art and in Mattel's 1987 catalog, were never released as planned.
Super7's 5.75″ scale line-up of Masters of the Universe figures has, so far, mostly focused on Filmation style variants. As a fan of the Filmation He-Man and She-Ra cartoons myself, I'm happy that they're offering these variants. At the same time, I'd love to see Super7 really take off and expand on recreating more lost concepts and prototypes from Masters of the Universe History.
Early Concepts & Prototypes
In my mind, some of the most amazing prototypes and concepts were those created during the early development of the Masters of the Universe line. I would love to see recreations of these figures. Many of them appeared in this way in the early minicomics, so these prototypes would really be killing two birds with one stone.
Skeletor
This early Skeletor is quite different in many ways from the vintage toy, and doubles as a minicomic variant as well. I would suggest making his head removable, and including an Alcala-style alternative head.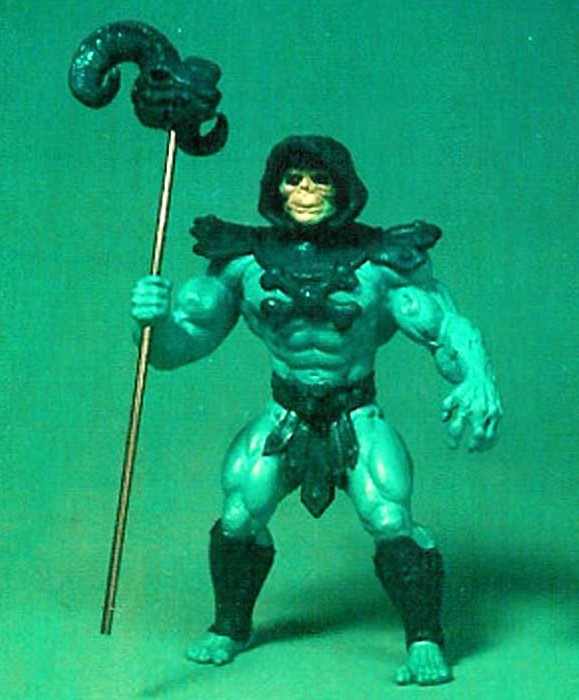 He-Man
There are really two prototypes that should be recreated – the early helmeted version and the later one (with blonde hair) that served as a model for the early minicomics. For the first prototype below, my gut suspicion (and I could be wrong) was that they might have been considering outfitting the figure with cloth boots, hence the bare feet. I would also guess that he would have had some version of the iconic harness. That could be wrong, but they would make great accessories.
Beast Man & Mer-Man
These early prototypes were part of the "Lords of Power" slide show presentation, shared by Andy Youssi. (Lords of Power was an early working name for the line, later replaced with Masters of the Universe.) Mer-Man neatly doubles as a mini-comic style variant. This version of Beast Man was very rarely portrayed in published media, but is nevertheless a fascinating figure.
Teela/Sorceress
There are several Teela/Sorceress concepts that could be produced, and all of them showed up in various early comic stories.
Man-At-Arms
This is another prototype design that could double as a minicomic style figure.
Stratos
This is another early concept that neatly doubles as a minicomic variant:
Castle Grayskull
This wish probably isn't terribly realistic, but I'd love to see a replica of Mark Taylor's original Castle Grayskull prototype:
Battle Ram
The prototype Battle Ram was more detailed than the mass-produced toy, and this design shows up in both box art and comic depictions of the vehicle:
Wind Raider
This early Wind Raider is depicted in cross sell art, comic book and storybook illustrations of the vehicle. A nice bonus could be a removable figure head that could cover both early prototypes:
Battle Chariot
Battle Chariot was a slick concept by Ted Mayer that appeared in the very first He-Man minicomic, never to be seen again.
Ram Man
This version of Ram Man, while fairly rough-looking, influenced cardback and comic book depictions of the character for years. A cleaned up version of this would make a great figure. Possibly a removable head could be included to transform it into Mark Taylor's earlier "Jumpin Jack Flash" concept: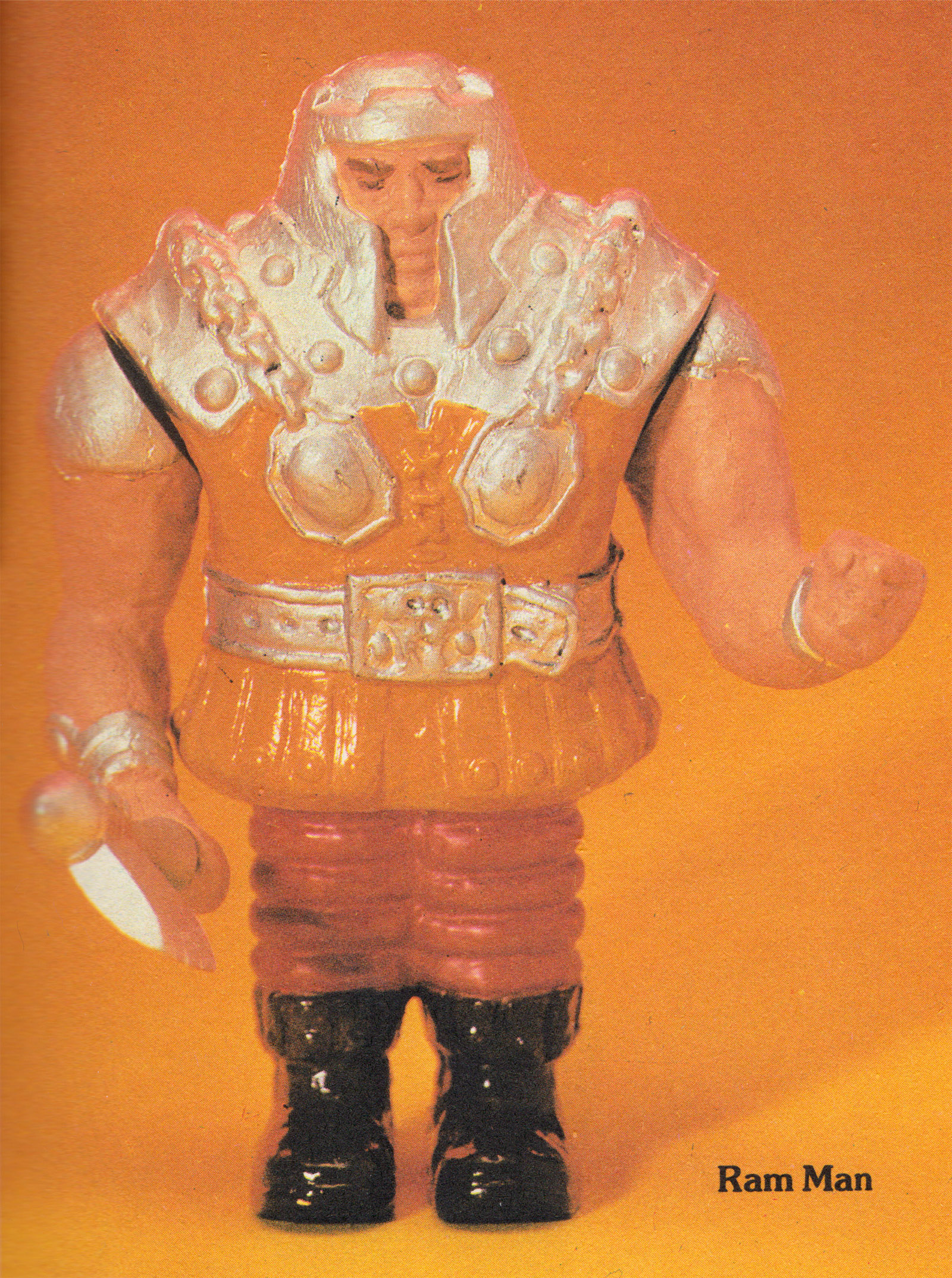 Tri-Klops
This prototype isn't so different from the actual vintage figure, but there are some unique differences in the head, armor and sword. This is also how he was depicted in cross sell artwork.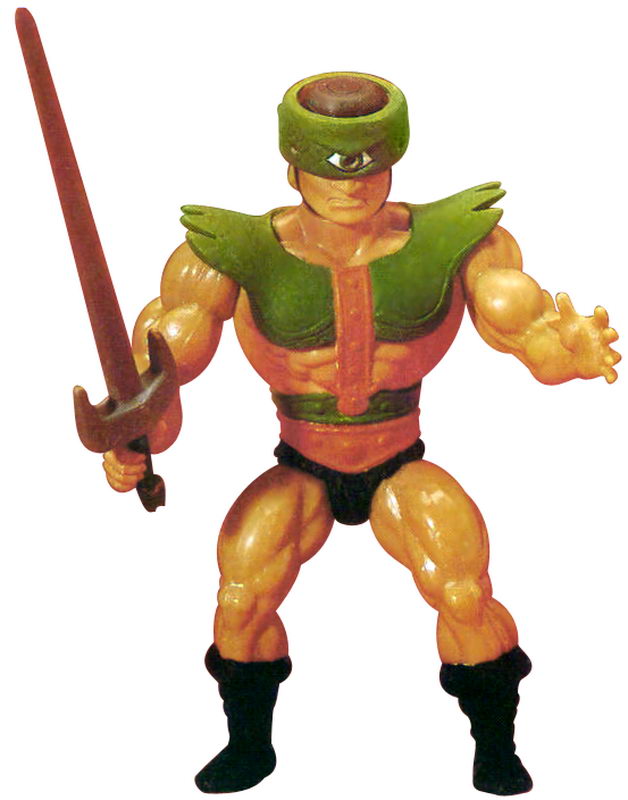 Man-E-Faces
This prototype Man-E-Faces design can double as a minicomic/cardback variant as well.
Other Prototypes & Concepts
There were plenty of unrealized prototypes and concepts done for the Masters of the Universe line (the same is true for just about any toyline). Here are a few of my favorites:
Brainiac
A creepy crustacean brain creature by Ted Mayer that was never produced:
Unnamed Skeletor Variant
A wicked looking Skeletor variant figure by Ted Mayer:
Demo Man
Although this character was likely not even intended for the He-Man line, it appeared in the Masters of the Universe Classics line and has a great, classic sword and sorcery design:
Gygor
This was Roger Sweet's take on repurposing Mattel's old Big Jim gorilla figure for the He-Man line. It was never released (outside of the modern Masters of the Universe Classics line).
Jungle Playset
An early jungle playset later repurposed into Snake Mountain.
Kobra Khan
This early Kobra Khan concept by Roger Sweet would make for a fun action figure.
He-Man and Skeletor Variants
These unnamed He-Man and Skeletor variants by Ted Mayer had spring-loaded pop-out chest weapons, similar to Rio Blast's action feature.
Horde Mammoth
This is another Ted Mayer design. It's probably not really a mammoth but it's become known as such to fans over the years.
Gyrattacker
The Gyrattacker made it into the 1987 Mattel catalog, but was never produced. The original molds were sold in an eBay auction several years back, so it's theoretically possible to reproduce this vehicle, assuming Super7 could find the owner. The command module would be launched forward, but it could also launch Rotar or Twistoid.
Turbosaurus/Gigantisaur
Gigantisaur was the only dinosaur shown in the 1987 Mattel catalog that was not produced. Due to demands that it be capable of swallowing a figure whole, it was impractically large. My suggestion would be to instead create an earlier incarnation of the toy, called Turbosaurus, which as a more interesting external design with a more realistic size.